January 3, 2018
Passion that's Paying Off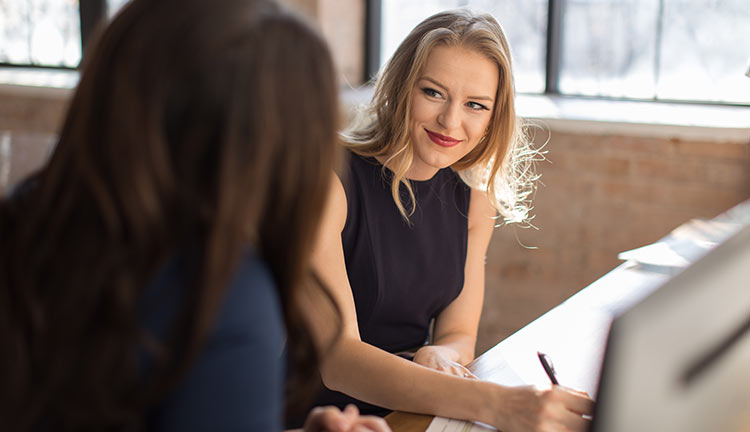 Kailee Soderlund '15 uses her expertise to bring hope to domestic violence survivors
During her time at St. Scholastica, Kailee (Ogden) Soderlund '15 learned about the power of advocacy, and discovered a way that she could make a real difference in the lives of others. Today, she is living out the Benedictine values with her focus on building financial literacy programs for domestic assault victims.
Savvy Saints
Early on in her college career, Soderlund — fueled by the memory of money problems at home — helped to develop financial literacy curriculum for her fellow students.
"I spent the summer before my junior year creating new curriculum for what became Savvy Saints financial literacy," she said.
The Savvy Saints program educates students on three main topics: budgeting, credit and debt. Soderlund shaped key parts of its programming and even came up with the Savvy Saints name.
Professors got in on the action, empowering Soderlund as she worked to provide opportunities for students to learn wise financial practices at a pivotal time.
"[Financial Aid Counselor] Bridget Bohn and I worked together on developing the program," Soderlund said. "[Assistant Professor of Management] Jen Pilon continued to be an advocate for the financial literacy program long after she stepped down from a supervisory role, providing opportunities to speak in many of her classes and helping make community connections."
Bohn was impressed by Soderlund's drive.
"Kailee was very passionate about finances in general, and about educating her peers and other students here on how to manage their own finances," Bohn said.
Pilon said Soderlund's enthusiasm, combined with her organizational skills and initiative, made her a joy to work with.
"She is the epitome of servant leadership," Pilon said.
The College is still building upon the foundation that Soderlund helped to create. An 8-week online financial literacy course, Personal Financial Management, will be offered in Spring 2019 terms 1 and 2.
Offering hope
Upon her graduation in 2015, Soderlund began her career as an associate financial advisor at Northwestern Mutual. Shortly after that, she pitched her financial literacy program to a local women's shelter, and began providing resources to those who had little, or none.
"There's a cycle of poverty and violence, and there's a lack of understanding, and a lack of resources to help women move forward," Soderlund said.
In January 2017, she opened a financial planning firm that contributed 10 percent of its revenue toward scholarships, grants and microloans to help survivors of domestic abuse pursue a future of their making. In 2018, she married her husband Josh and started her own nonprofit organization, Forward Focus Financial. She recently hired a part-time executive director, and spends a quarter of her time working on the nonprofit.
Finances are a critical issue for women experiencing domestic abuse, she said. It's a key element of control for abusers, and it's the number one reason why women stay in unhealthy situations.
"We all have complex relationships with money," she said. "When it has been used as a primary means of power and control, it takes more to navigate those nuances."
"We are very grateful for Kailee's partnership with us in helping women overcome barriers so that they can move forward to lives free of abuse," said Linda Wiza, executive director of The Dwelling Place in Columbia Heights, which provides long-term transitional housing and other services to women and children fleeing domestic violence. Working with organizations like this, Soderlund helps facilitate small loans for things like unpaid parking tickets and other bills, or even tuition assistance.
Career success
She continues to excel in her main job at Northwestern Mutual — in July, she won the company's Pacesetter distinction for reaching a production level achieved by less than 1 percent of her peers.
She serves on the Young Professionals board of Team Women, a group that aims to cultivate future generations of women leaders; and the advisory boards of The Dwelling Place shelter and the Ann Bancroft Foundation, which encourages girls to succeed by building confidence and offering support. She recently was named a Twin Cities Rising Young Professional by Finance & Commerce magazine. She speaks to corporations and community groups nationally on personal finance and financial abuse.
Looking back, Soderlund says she's grateful for the immersive education in human dignity and stewardship she received from St. Scholastica.
"Seeing each person as equally valuable was something that was instilled in me at St. Scholastica, and it's developed into the way I run my practice today," Soderlund said. "I think about the Benedictine value of stewardship as well, and how we're called to manage the resources we have. That's what I am passionate about."