June 2, 2016
Outside Insight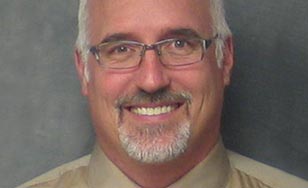 Paul Schoenberg opened his mind to different perspectives through the CSS MBA program
Paul Schoenberg thought he had everything lined up back in undergraduate school. He'd earn his degree in Business Management, then — in due time — take over the family construction business. And then healthcare came calling.
"During my time in undergraduate school, I worked as a member of the national ski patrol over at Powder Ridge in Kimball, Minnesota," he said. "I had a chance to learn about emergency care on the ski slope; removing people from the hill on the sleds and that kind of thing."
"One of the other patrol members was an ER nurse, and when I realized I didn't want to be in construction, I had an 'A-ha moment' and moved toward healthcare, where I've worked for 24 years."
Schoenberg's interest in medicine led him to pursue a bachelor's of science in nursing, after which he landed a Staff Nursing position at St. Cloud Hospital in 1993. Eight years in a Level II Emergency Trauma Center gave him the requisite experience to rise to an administrative position — Director of the Emergency Trauma Center, Emergency Management and Customer Contact Center.
The right time
Ten years into his directorial tenure, Schoenberg believed the timing was right to pursue his MBA.
Schoenberg said he'd had some colleagues go through the program at St. Scholastica, and cited their references along with his own research as key reasons he moved forward.
"Other people at the hospital were at St. Scholastica and spoke about how convenient the application process was," he said. "With the options of full-time and part-time classes, it just seemed like it fit how I wanted to learn — it was local and there was a combo of online and classroom."
Once in the program, he reveled in the perspectives offered by students in a variety of professions.
"I started my career in St. Cloud, in the emergency room as a nurse intern, and got a nursing job," he said. "All of my experiences in healthcare and management were in that one department. "I knew that the different perspectives were going to help me."
Near the end of his time in the MBA program, Schoenberg opted to complete his Global Capstone with a trip to India, where he experienced first-hand the way hospitals are run in a foreign country, without the benefit of American resources.
"I'm of a belief that anything international or in a different culture can give us a better understanding that the American way isn't the only way," he said. "I was able to see how two hospitals run, and it's very different than the United States, where we have strict regulations."
"The experience allowed me to see and accommodate for the cultural differences that we see in St. Cloud. People might act differently from us, but they still have the same organs and same health needs."
Paving the way
With a new position — Schoenberg transitioned to a Director of Family Health Center/Residency Program position at CentraCare Health (formerly St. Cloud Hospital) in 2016 — and MBA in tow, he's ready to embrace change and make a positive impact.
"I'm excited to see a whole different section of healthcare, not just the emergency department," he said. "I'll coordinate the finances for the the residency program, urgency center and family clinic — thankfully, I'll have physician partners who will do most of the teaching."
Schoenberg says he's already given many references to friends and colleagues who are contemplating an MBA; his time in the CSS program left a positive impression. In fact, he's even participated on occasion as a guest lecturer.
"I've been out of the program for three or four years now, but [St. Scholastica Assistant Director of Recruitment, Graduate and Extended Studies] Katie Wayne has kept in contact with me, sending emails or reaching out on LinkedIn," he said. "Lydia McKenzie invited me to talk to a class about my time in India to help them understand what they would experience."
"Even after I finished the program, I'm still a part of it."