October 27, 2015
Oprah said "Mmmm…"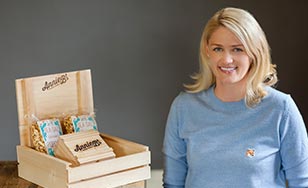 …and Amanda Henke was ready to make the most of it
A shout-out from a mega-mogul is helping create sweet success for one St. Scholastica grad.
Amanda Henke and her husband Justin own and operate Annie B's Popcorn and Caramels of St. Paul, Minn. Last November, they received an early Christmas gift in the form of an endorsement from none other than Oprah herself. The media queen named Annie B's handcrafted caramels to her 2014 "Favorite Things" list of gift ideas.
"We jumped up and down and celebrated for about five minutes," Amanda said, "then we got right to work planning for increased website sales, more wholesale activity and our temporary pop-up shop in St. Paul."
It's just the latest chapter of one fast-moving story for the Henke family.
In late 2012, Amanda, who earned a bachelor's in organizational behavior and an MBA with a marketing concentration, was working for University of Minnesota Extension's Health and Nutrition department. Her husband was working for KLN Family Brands. Both had ambitions of starting their own business someday. Inspiration came in the form of Amanda's pregnancy cravings — she was hungry for caramels, all the time.
They started making them out of their kitchen. It seemed like destiny when a friend introduced Justin to the owners of Annie B's.
"The timing seemed perfect, and when Justin brought home Annie B's Sea Salt caramels and I ate twelve in one sitting, we knew it was fate," Amanda said.
They were drawn to Annie B's, they said, because it's a small company that focuses on doing just a couple of things — caramels and popcorn — really well. A small, tightly knit staff uses high-quality ingredients and slow, artisan techniques to produce superior products.
By Dec. 11, 2012, coincidentally the day Amanda went into labor with the couple's son, Justin made a purchase agreement over the phone.
Amanda said it's been stressful yet rewarding to become full-time business owners and proprietors.
"It's easy to work more than you should, because you're working for yourself," she said.
Her time at St. Scholastica prepared her well for the new endeavor.
"While I was in graduate school at St. Scholastica I worked with the marketing team in St. Paul, which was a terrific learning experience," Amanda said. "They had years of marketing under their belts and I felt challenged every day. That provided a nice complement to the classes I was taking for my MBA, which definitely helped my critical thinking skills as well as my public speaking skills. They're crucial to success in my current position, and I received plenty of practice in both during my MBA program."
When Oprah's "Favorite Things" were made public, Annie B's sales spiked with a 75 percent increase over the same period the previous year, and website orders soared 700 percent.
Amanda and Justin are considering how to keep the momentum going, with an eye toward sustainable development.
"We know we need to expand our manufacturing space but also want to make sure to keep our wonderful team on board," Amanda said, "so we'll be discussing how best to move forward once the Oprah madness slows down a bit."