July 22, 2020
Opportunities for growth
Since 1912, The College of St. Scholastica has been preparing students for a life of purpose, in addition to economic gain, by emphasizing the Catholic Benedictine values it was founded on.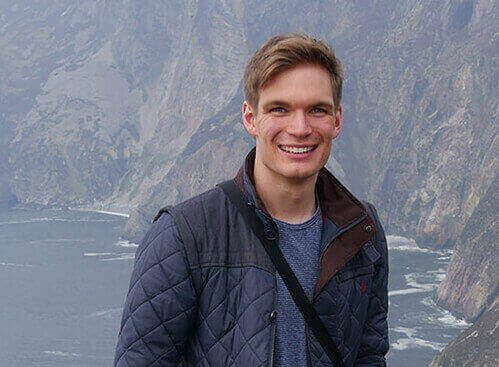 Faculty foster an environment for learning and discovery
Charley Hagen's initial visit to St. Scholastica was engaging, and his experience as a student has lived up to the promise of that first day on campus.
Hagen's conversations with the faculty members he met during his visit made a strong impression, and broadened his horizons.
He talked with Rob Larson, assistant professor of Communication, Theater and Art, and Nathan Carroll, associate professor of CTA, about the options he could pursue and the type of liberal arts education he would receive.
"I appreciated the level of approachability and being able to openly communicate with them," Hagen said '21.
These conversations gave him the desire to learn more from Larson and Carroll.
"I was challenged by Rob and emboldened by listening to Nathan Carroll talk about film in a way I hadn't heard before," Hagen said. "I felt challenged to learn, grow and explore these different avenues."
Making connections
A passion for storytelling and an early desire to be a child counselor led Hagen to pursue a communications major and a psychology minor.
"I want to know what people think and why they think that way," Hagen said. "And, I want to communicate that effectively."
These aspirations have been realized through experiences both on and off campus. Hagen credits faculty with helping him connect to those opportunities.
"I can't state strongly enough how powerful those relationships were to make the overall experience so much better," Hagen said. "The professors go above and beyond to present exploration and opportunities of growth."
Endless possibilities
During his time at St. Scholastica, Hagen's memorable experiences have included networking with film and TV industry professionals, learning new skills and meeting people from around the world. He can sum them up in one sentence:
"Accommodating opportunities to amplify my life and passions while introducing meaningful new avenues and means to develop."
While studying abroad in Ireland, he was immersed in a cultural education. Faculty taught onsite courses to teach history in a unique way. In talking with people from Ireland, Hagen had the chance to see the world from a new vantage point.
"It taught me how to learn in a different environment and to look at people and environments from a different perspective," he said.
Back at St. Scholastica, Hagen has also had some impactful experiences, including creating and editing videos for the Marketing and College Communications department. He's gained hands-on learning experiences through a course called Presentation and Impact, where he and his classmates wrote, produced and edited a broadcast at the WDIO-TV Channel 10 studio.
"Far better than any other opportunities, it has been a cool and holistic, broad way of learning how different people think and act," Hagen said.
In October 2019, Hagen participated in a full-fledged film festival as a VIP student guest. At the Catalyst Content Festival, which was held in Duluth, MN, Hagen attended several screenings, panel discussions and networking events where he was able to meet industry insiders.
"This was an amazing opportunity," Hagen said. "I met a lot of people from the TV industry and even talked with a gentleman from 'Parks and Rec,' a show I adore."
Future vision
Hagen plans to graduate in spring 2021, and hopes to work in media or film. Possible career interests include creating short films or being a newscaster.
Either way, he wants to tell people's stories in an authentic and conscientious way.
"I want to be part of the solution, not the problem," Hagen said. "I want to help people in a genuine, kind-hearted way and in as true a form as possible to bring light to different people and their stories."
His recommendation to students?
"Be meticulous and selective, but take those opportunities and recognize that if you don't get out of your comfort zone, there's nowhere for you to go," Hagen said. "Your world is only as small as you make it."