December 27, 2013
Oh, the Places You'll Go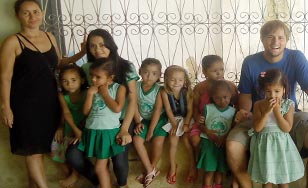 Ryan Nehring develops himself and the world
A kayak, a bike, a TV, a Subaru car. No, it's not Ryan Nehring's Christmas list. It's a sampling of the things he sold for a once-in-a-lifetime internship opportunity at the International Policy Center of the United Nations Development Program in Brasilia, Brazil.
"While researching for my thesis there (for his Master's in International Development Studies at St. Mary's University in Halifax, Nova Scotia), I applied for their internship program and after a month or so I was accepted," Nehring said. "The internship was unpaid so I sold everything I owned at the time and funded my three months with that money."
Fortunately, he was more than prepared for it from his time as a Languages and International Studies (LIS – now called "Global, Cultural and International Studies") major at St. Scholastica.
Thanks, in part, to his personal development here, Nehring's gamble in Brazil ultimately paid off. After completing his internship at the International Policy Center, he was hired on as a researcher there, focusing on the Brazilian government's anti-poverty program. A year later, he decided to come back stateside to work at the International Food Policy Research Institute (IFPRI) to further explore the problems with modeling Brazilian rural development policies in Sub-Saharan Africa.
A diverse education
"One of the most amazing things about the LIS major is that you are not only learning a new language but also getting exposed to new ways to look at the world and its inhabitants," Nehring said. "It helped me establish the footing to think more critically about almost everything and develop more specific ideas and questions about the social sciences."
This interest was fostered by CSS's personal touch. Because of the school's small size, Nehring was able to interact daily and personally with professors like Dr. David Schuettler, Dr. C. Neal Keye, and Dr. Thomas Morgan – interactions that inspired him to where he is now: pursuing a Ph.D in Development Sociology at Cornell University in Ithaca, N.Y.
But Nehring's relationships with his professors were far from the only important ones.
"I think it's crucial to have a student community around you while you're studying," he said. "The combination of CSS's strong community and significant international student population helped me build close and long-lasting relationships with interesting people from all over the world."
And after going to all these places and doing all this important work, he still appreciates where his journey started.
"For me, attending St. Scholastica was a big step in learning about issues that are important to all of us as global citizens," Nehring said. "I'm very glad that I came."