January 27, 2016
New Frontiers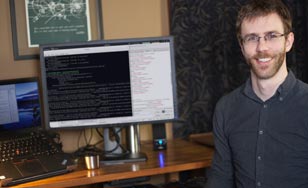 Computer science alum making headlines through work at Wikipedia
When it comes to computer programs, if Aaron Halfaker '06 can imagine it, he can create it.
That's what led him to change his major from physical therapy to computer information science, and why he's now helping develop artificial intelligence technology to improve Wikipedia.
Thought Legos
"When I took my first programming class with Diana Johnson, (I realized) that programming was like 'thought Legos'," said Halfaker, 31. "If I could imagine how it would come together, then I could build it. And that was really fascinating to me."
He had a preconception of programming as monotonous, he said, until his first class with Johnson, at the time a CIS associate professor.
"I changed my major after that first class in computer science."
Johnson and Jennifer Rosato, assistant professor of CIS, were instrumental in shaping Halfaker's future both in and outside the classroom. Johnson was a major promoter of the College Computer Club, and she and Rosato encouraged Halfaker to pursue innovative independent projects that laid the foundation for his future research.
"They were really supportive of me working on new technology ideas that I had… the outside-the-classroom interactions that I had with them were really great. It led to me publishing my first research paper before I graduated from Scholastica. That was sort of a jump start to my research career."
Life-changing mentors
His mentors encouraged him to apply for graduate school, something he wouldn't have considered otherwise.
"Jen deserves a lot of credit for where I ended up in my career," said Halfaker. "I really owe her for pushing me to apply for graduate school."
He received full funding to attend the University of Minnesota, and went on to earn his PhD in computer science from its social computing research lab.
"I wouldn't have tried that if it wasn't for (Johnson and Rosato)," Halfaker said.
Rosato said Halfaker was an obvious candidate for graduate school.
"He is a very curious person. He is always wanting to know how things work and just dive deeper into subjects," Rosato said.
A geek dream
Halfaker now works as a senior research scientist with the San Francisco-based Wikimedia Foundation, telecommuting from his home in Minneapolis. He recently made headlines — like this one in Wired magazine — for his work with a type of artificial intelligence, Objective Revision Evaluation Service, that more effectively analyzes edits made to Wikipedia pages.
"It's sort of like a geek dream to show up in Wired for something," he said. "The more conversation we can have about this, the faster we can move toward better practices, and that's really important to me."
His goal is to improve the user experience for new volunteer Wiki page editors, who have often been greeted by discouraging rejections because the old system, as Halfaker says, had only two categories for edits: "perfect" and "everything else."
"Wikipedia's community of volunteer editors has been declining," he explained. "It's relatively concerning that it's very hard for a new editor to show up at Wikipedia, try and contribute productively and get a positive response. They should be welcomed for the kind of work that they want to do, and that's not the case today."
Rosato pointed out that Halfaker's efforts to make Wikipedia a more welcoming and inclusive community are a strong reflection of the College's Benedictine values.
Halfaker's work puts him at a fast-growing and fascinating intersection between technology and social systems.
"It's a fun space to be operating in," he said.