December 1, 2013
National Champion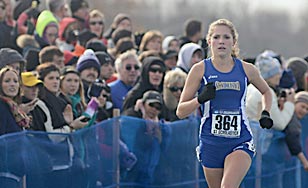 Chelsea Johnson is the College's first NCAA Division III National Champion, having won the 2013 NCAA Women's Cross Country Championship on Nov. 23. She has also been named Division III Women's National Athlete of the Year.
The senior from North Branch, MN, was "exhausted, happy and excited. I just put my arms in the air when I crossed the finish line."
She finished her collegiate cross country career winning her final six races and won a total of eight this season.
"Never thought I would be here," she said. "Freshman year was rough, but my times got better my sophomore year and I just wanted to train more and see where it goes."
Johnson had already become the St. Scholastica cross country program's second NCAA All-American in 2012, after finishing 15th at Nationals. She was driven to do even more this season and put in the time in the off-season to do.
According to her coach, Steve Pfingsten, the plan was to start out fast much like she did during her five-race winning streak.
"The course was wet and soft because it had rained here the last couple of days," said Pfingsten. "It didn't affect Chelsea too much because of her strength and athleticism."
Johnson was in a group of about a dozen runners early, which dwindled to four midway through the race.
"I knew I had to hold my spot and then take off at the end," she said.
At the five-kilometer mark, she started to distance herself from the group of four by a few meters.
"I decided when walking the course and talking with coach that the 5k mark was going to be the time I was going to go," she said.
In the final kilometer, she put on a bit of surge and cruised to an 11-second victory over her nearest rival to win the program's first national title. Her winning time was 21:11.7.
"I am not only excited for Chelsea, but this is exciting for our program," said Pfingsten. "It shows that we can train successful runners that can compete for national championships."
Johnson was named Division III Women's National Athlete of the Year by the United States Track & Field and Cross Country  Coaches Association. She is the first Saint to achieve the honor.