December 27, 2013
More Than a Number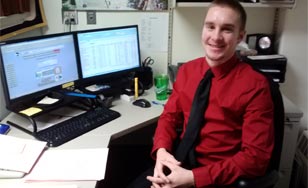 Nate Cavallin's hands-on education led to a job at St. Luke's Hospital
Though Nate Cavallin spends his days working with digits, he never wanted to be one.
"I didn't want to be just a number like people at bigger colleges," he said. "I wanted a small campus, with small classes."
He wanted individual attention. And he got it at St. Scholastica.
"As an accounting major, I was part of a small group of classmates that had most of our accounting and finance classes together," he said. "Being able to study together and have people to relate to and share experiences with helped make the classes more enjoyable and less stressful."
But that doesn't mean they were any less rigorous. The practical accounting knowledge he developed here served as a solid foundation to build off of as he gained more experience in the field…experience that CSS would also help him gain.
"Scholastica has good connections with local companies for internship opportunities," Cavallin said. "This was really nice and gave me a great chance to get real-world experience in accounting."
For Cavallin, this took the form of an internship at Minnesota Power during his senior year. This opportunity to put his education into practice and learn the nitty-gritty aspects of being an actual accountant eventually helped him earn a job as an accountant at St. Luke's Hospital in Duluth after graduating in the spring of 2013.
But his success wasn't just a product of his accounting acuity.
"Through classes and various activities around campus I was able to get to know people from other countries and backgrounds, learn new cultures and try new things without leaving campus," he said. "It really was a great all-around learning experience."