June 8, 2016
Managing Education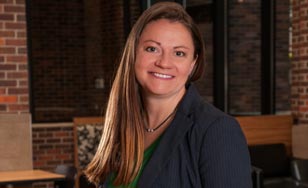 Shawn Clairmont earned her MBA while leading a bio-tech industry sales team
Most people don't have a good feel for the work MBA graduate Shawn Clairmont is a part of on a day-to-day basis. That's because she works for QIAGEN, a company with international reach that analyzes biological samples to gain molecular information and advance research for healthcare solutions.
You might say it's a bit complex.
"It's probably easiest stated that I lead a sales team across North America in a bio-tech industry that focuses on genetics, next-generation sequencing and technology that would be utilized in labs to perform testing for research or patient sample," Clairmont said.
Back to class
Before she took her most-recent position — Associate Director, Global Strategic Business Team NGS back in 2014 — Clairmont found time in her busy schedule to build business acumen with an MBA. The combination of location (she resides with her family in Duluth), class size and convenient meeting times were all persuasive in her process of selecting St. Scholastica.
"The evening classes were appealing because I wasn't going to be able to take time off work for an MBA," Clairmont said. "Plus, because I was already in management, there was so much I could apply immediately."
Clairmont said of all the experiences she had, the varied perspectives on problem solving in different industries were most enlightening.
"We had engineers, HR professionals and more in class — really a nice culmination of backgrounds," she said. "The perspectives from different industries helped me to consider my work in a new light."
"The professors displayed wonderful professionalism, as well. From the start, they helped us get our minds back into academic writing. It was really helpful after years away from college focused on our specific industries."
New ways to lead
Near the end of her time in the program, Clairmont traveled to France as part of her Global Capstone project, and dug deeper into SEAM (Socio-Economic Approach to Management) theory. In meeting the founders of SEAM and crafting her thesis, she developed a greater appreciation for developing individual talent.
"The SEAM method focuses on how to ethically think about people as individuals rather than 'human capital' in business," Clairmont said. "For me, it increased awareness and intentionality with how I'll build teams going forward."
Now, with her MBA complete and an eye toward the future, Clairmont believes the CSS program is ideal for experienced professionals.
"I think this is a great program for professionals because you can go back and apply what you learned right away," Clairmont said. "And now, with the new MBA in Leadership and Change, it will even better for future students."