December 12, 2016
Living the Dream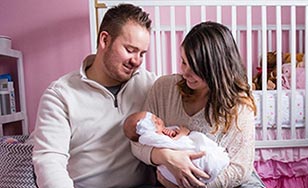 David and Suzie Bloomquist found a career path, and each other, at St. Scholastica
Long before David and Suzie Bloomquist met in the Master's in Athletic Training program at St. Scholastica, they each had developed a strong interest in the profession.
David sustained an injury playing high school tennis, and that's when athletic training piqued his interest. Suzie took a less-painful route, leveraging her three-sport participation into a career that kept her around sports.
"I've wanted to be in health care ever since I was in high school," Suzie said. "My high school didn't have the luxury of an athletic trainer that was specialized in sports medicine to help guide us, and I wanted to do that for other athletes."
Now married with a young daughter, the Bloomquists treat an intriguing range of patients in the Twin Cities metro area. David serves as the head athletic trainer for local soccer team Minnesota United FC, while Suzie works with the general population at Sports & Orthopedics Specialists.
Northern exposure
Suzie grew up near Duluth and completed her undergraduate degree at St. Scholastica, while David began his MS in Athletic Training after earning his bachelor's degree at Concordia-Moorhead.
"I was looking at opportunities around the country, and there aren't a lot of entry-level graduate programs," David said. "As a kid, I spent a lot of time in Duluth with my family, and loved the area. I ended up finding exactly what I wanted at St. Scholastica."
The couple found clinicals especially illuminating. The opportunity to treat patients and receive extensive evaluation and instruction from professors who've spent years practicing professionally. "I loved how we would take the things we learned in the classroom and directly apply them the same day during clinical rotations," David said.
Among other things, Suzie called out a strong connection with faculty.
"Early on I connected with Dr. Amy Brugge a lot — she was such a big mentor for me," Suzie said. "There is so much to learn so quickly, and she was always a phone call or email away. She just made everything so enjoyable."
A balancing act
Between changing diapers and keeping a watchful eye on their daughter Annika, the Bloomquists keep quite busy with their professional careers.
"I was able to spend a few years as an athletic trainer at a smaller high school, but then moved on to general population work," Suzie said. "I got to do exactly what I wanted for awhile as a high school athletic trainer, and now I'm learning more than I imagined from our physicians."
David hitched his career to an up-and-coming player in the Twin Cities sports market. As the soccer team prepares to enter Major League Soccer (MLS) and erect a new St. Paul stadium, he too is living out a professional dream, and was recently promoted to head athletic trainer for the United.
"My biggest goal right now is to make the transition easy for the team as they move into the MLS," he said. "We want to have the medical care side as seamless as possible so we can continue working with them."
The Bloomquists believe any student who has a passion for athletic training can find a professional path through St. Scholastica.
"I'd say look at the track record of our program. We've got alumni in clinics, in professional sports, in college and high school sports," David said. "People are being trained well, and they're finding success."