February 24, 2020
Learning well at the NFL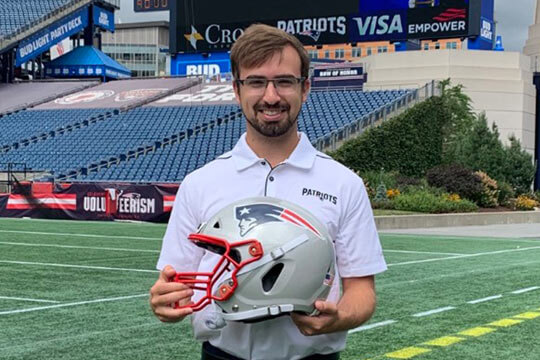 Internships provide an enriching experience for students
Two Athletic Training students recently gained high-profile experience with National Football League teams.
David Kimmer completed a summer internship with the Minnesota Vikings, while Eric Pillsbury spent the summer and much of the fall semester with the New England Patriots.
New England Patriots internship
Pillsbury worked with the Patriots through the summer and over the first 11 weeks of the season, until mid-November. The longer he spent with the team, Pillsbury said, the more they grew to trust him.
"I spent quite a lot of time with athletes," he said. "Once I had been around them longer, they'd come to me more frequently."
He felt fortunate to work with the Patriots' Jim Whalen, who won the Fain-Cain Memorial Award for Outstanding NFL Athletic Trainer of the Year for the 2018 season.
"I feel beyond blessed that I get to learn from him."
Pillsbury found himself immersed in a rich educational environment. He was able to sit in on a variety of informational talks with medical professionals, learning about everything from surgeries and their impact on players to the finer points of reading an MRI scan.
"If we better understand the anatomy and what the doctors have done, it can help us with our rehab and things we might want to avoid," he said.
All in all, he said, the internship was "a very humbling experience."
"I feel blessed that I get to represent Scholastica's program here, to give them the good name and because they're a program that produces good students."
An educational experience with the Vikings
Kimmer (center, in purple) interned at the Vikings' new facility in Eagan, MN.
His daily schedule was built around the athletes' routines of training, practices and workouts. He enjoyed learning about the newest technology in the athletic training field, such as cryotherapy (cold therapy) chambers designed to help heal injuries faster.
"It helps get new blood flow to areas of sore tissues," Kimmer said. "Being around that new facility was really cool, every day."
He also liked getting to know the players as regular people.
"They're normal guys, which made me feel better about working in the NFL in the future. All of them were very respectful."
The experience made him recognize how well St. Scholastica had prepared him.
"There was a point in time that the players began to trust me and ask me more questions," he said. "It brings me back to the program and how well they teach you. I do know what I'm talking about, thanks to St. Scholastica."