March 12, 2020
Innovation at the Speed of Light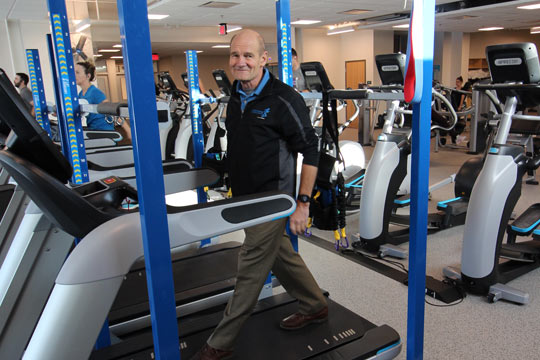 Alum's invention helps patients, athletes reach their potential
There are two kinds of inventors. Those who are commissioned, and those who are compelled by empathy or felt need. Malcolm Macaulay '86 is distinctly the latter.
Macaulay is the creator of LightSpeed Lift, a product developed in 2012 and now used internationally, to allow physical therapy patients pain-free use of a treadmill. The idea is to reduce impact and increase stability.
"The LightSpeed body weight support system helps provide a fluid and natural gait to patients with cardiac, orthopedic and neurological conditions," Macaulay said.
A helpful idea
The idea came years ago, as a way to help a patient. Macaulay built the tool from scratch, and the patient made significant progress.
"Early in my career, I was working with a number of runners; one in particular had a neck injury," said Macaulay, who has over three decades of physical therapy experience. "We got him to the point where he could do everything but run — the jarring was too much. Bodyweight systems weren't well developed yet, so I created a harness that would end up being the seed of the idea for what became LightSpeed.
"When we hooked the patient up to the harness, he could run. Within four or five weeks, his neck had healed up and he was off."
Applications for elite athletes
LightSpeed isn't just for physical therapy patients, though. The 2019 Grandma's Marathon winner, Boniface "Bones" Bongin, used LightSpeed as a training tool.
"It really was fun to watch him do his thing this year — I had a chance to meet him and he used the LightSpeed to recover from a previous marathon," Macaulay said. "One of the earliest thoughts was that this tool could be used for elite athletes.
"If you lift them a little, they can run faster than normally can, devise new training styles, and lessen the chance of injury."
Research-backed results
In 2015, Macaulay partnered with St. Scholastica physical therapy professor Jena Ogston, PhD, to develop clinical research. He now uses the data to demonstrate the veracity of his claims.
"I've known Jena for a long time and we've stayed in touch —she's always had an interest in running and it was a good fit," Macaulay said. "After some discussion, she designed a study that helped to prove the efficacy of LightSpeed. The findings were presented at a national convention and eventually published in an industry journal."
Ogston said the study found that the LightSpeed system "unweights" patients by up to 24%, unlocking the benefits of "unloading effects" for the muscles. It's proven beneficial for a variety of users, from elite runners to people with disabilities.
"Patrons that use it range from high-level running athletes to those with physical disabilities where the LightSpeed helps them walk," Ogston said. "Several places are instituting the system including the maurices community clinic, YMCA and college athlete training facilities."