December 12, 2016
Hope, and a Future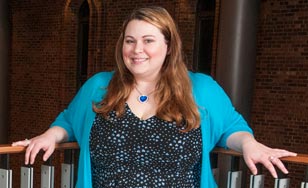 Hope Haugstad found the right fit in Computer Information Systems (CIS)
As a non-traditional student with no outside financial support, Hope Haugstad knew she'd face special obstacles before ever setting foot on St. Scholastica soil.
For one, she didn't know much about coding, and she was entering the Computer Information Systems (CIS) program.
"It's similar to learning a new spoken language," Hope said.
And now, at the end of her journey, it's become quite clear she was up to the challenge.
Getting started
For Hope, job number one was securing scholarship funding. St. Scholastica admissions counselors and professors alike helped her find opportunities, including the IWIT (Increasing Women in Technology) Scholarship, S-STEM Scholarship, Clare Boothe Luce Research Scholarship and the Minnesota High Tech Association Foundation scholarship.
With that out of the way, she was able to focus on schoolwork.
Hope decided to pursue a double concentration — software engineering and web development — and did so while holding down various full- and part-time jobs.
"Depending on the semester, I'd have to change shifts to match my class load," Hope said. "Sometimes, I'd end up taking night classes, online classes or morning courses [to continue working regular hours]."
Opportunity knocks
As she made her way through the program, Hope spoke with the Center for Academic Success coordinator, Jessica Johnston, about a tutor for the CIS program and through a turn of events, ended up becoming a tutor herself.
"She asked me if I would consider tutoring younger CIS students," Hope said. "I hadn't really thought about doing it before, but now I've been able to help bring students from saying 'I can't do this' to needing just a few small adjustments to their code."
"It turns out I really like teaching, and I can see myself doing that in the future."
And the opportunities didn't stop there. The Clare Boothe and S-STEM scholarships funded trips to various conferences, including the Grace Hopper Celebration of Women in Computing — an annual gathering that draws thousands of students for breakout sessions, keynote speakers and networking opportunities.
"I met with a senior executive from Bank of America/Merrill Lynch at Grace Hopper in 2015, and after ten minutes of conversation he said 'I think you have great leadership potential, and I want you to work for me personally,'" Hope said. "They only hand-pick a few people each year for internships."
Trail to Texas
After graduating summa cum laude in fall 2016, Hope moved to Texas to help her sister settle into motherhood. But she didn't have to look for a job — Bank of America offered her full-time work in its Plano location starting in February 2017.
"I'm excited to start my career and explore Texas," Hope said. "I've already started making new friends, and can't wait to see what the future holds."
Hope credits St. Scholastica for providing an environment where she could find success.
"I'm a completely different person because of St. Scholastica; I have a sense of purpose, a sense of direction and a real sense of myself," Hope said.