September 2, 2015
Home away from home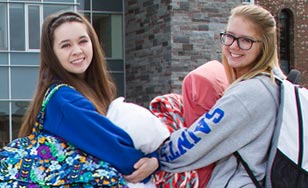 New friendships, welcoming campus help new Saints feel right at home
Among the run-of-the-mill questions about room assignments, textbook orders, and move-in dates on St. Scholastica's Class of 2019 Facebook page, two freshmen found something more important: a true connection.
"All it took was, 'Hey, you're a dancer, I'm a dancer,'" said Caitlin Hare of St. Paul. "I think that's how it started."
Now a friendship built online has blossomed in person for Caitlin and Hailey Ek, and these two best friends are excited for the start of their college career at St. Scholastica this fall.
They both worked at the Minnesota Wild Hockey Lodge after Caitlin convinced Hailey, who lives in Elk River, to apply for a job there, and they've both joined the Saints cheerleading team. They text and FaceTime each other constantly, and frequently send each other the same memes and funny photos coincidentally. In person, they finish each other's sentences.
"It's kind of scary. It's almost like we're too much of the same person sometimes," Hailey said.
Along with dance, hockey and cheerleading, high on their list of common interests is excitement about starting college at St. Scholastica.
"As soon as I walked on to the campus, it was like, 'Yeah, this is where I want to go,'" Hailey said. "It's an amazing school. I've actually recommended it to some friends of mine that are younger. It's just breathtaking seeing Tower Hall. It's like Hogwarts."
"She only applied for one school," Caitlin said.
"I didn't want to go anywhere else," Hailey confirmed.
Nervous about leaving home for the first time, Caitlin loves the "homey," welcoming feel of St. Scholastica.
"We were just walking around here, and I felt like I was at home without actually being at home," she said. Of course, her new Saints friends will help make her feel more at home, too.
"Hailey's one of the reasons that I can go to St. Scholastica," she said. "I feel like I have somebody there for me."
Caitlin plans to major in communications, minor in finance, attend law school and become a corporate attorney.
Meanwhile, Hailey's search for an excellent occupational therapy program — combined with the St. Scholastica campus vibe — have convinced her that she wants to be a Saint for the next four years and beyond.
"I'm planning to attend graduate school here as long as I get accepted," she said. In the meantime, she's excited about being a part of the cheerleading team — which Caitlin persuaded her to try.
Both look forward to joining clubs and volunteering — together, of course, at their new home away from home.