November 27, 2019
Helping others stay independent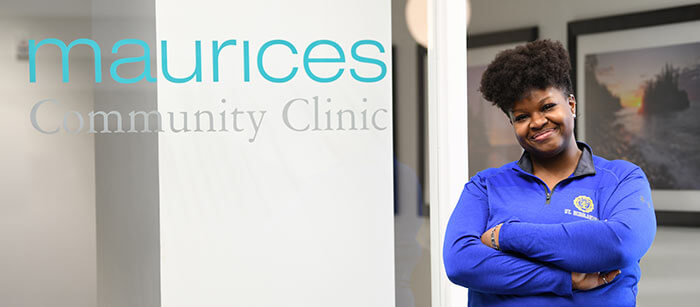 Occupational therapy student Alwajudat Latrice Lawal found her passion and is making an impact
"Alexa, please remind me to take my pills at 7 a.m. every morning."
This isn't an uncommon phrase for Alwajudat Latrice Lawal '20 to say when showing patients how to use assistive technology like the Amazon Echo to help them remain independent. This is just one of the technologies available through the maurices Community Clinic that allows Latrice to help individuals restore their sense of purpose and live meaningful lives.
Through St. Scholastica's occupational therapy program, Latrice is gaining hands-on experience through the Clinic and other fieldwork that is helping her to prepare for her future. Through these experiences, she quickly realized why she is so passionate about this profession.
"Occupational therapy has the ability to affect lives in many different ways," said Latrice. "Being able to restore a person's motivation and livelihood drives my passion, and keeps me in touch and in love with what I do."
Latrice recently took a moment to share more about her experiences, what she enjoys about the program, and her career goals.
Why did you select the occupational therapy program at St. Scholastica?
There was a question on the application that inquired about why my grades don't reflect my abilities. This showed me that they care to look beyond the numbers and consider my circumstances. That brought me to the College, but I was also appreciative of their aspiration to "create a culture of inclusion that promotes human dignity, values diversity, and improves the quality of life for all, seeking individuals with diverse life experiences to create vibrant and stimulating experiences for students, faculty and community." I felt that I fit into this aspiration as a potential student who has had enriching experiences that I could share with my peers to make me a stronger learner and practitioner.
How is this program preparing you for your future career?
The coursework and curriculum are preparing me for my future as an occupational therapist, but I'm also receiving hands-on experience. I'm able to develop skills through the Clinic and community, interactions with community practitioners and interprofessional experiences with other healthcare disciplines. The program does a great job in making us well-rounded students both inside and outside of the classroom.
What is unique about the program?
The occupational therapy program at St. Scholastica strives to expose students sooner to the necessary hands-on skills needed to succeed in fieldwork. It is beneficial that we are able to gain experience in the maurices Community Clinic. This space encourages students to develop skills early and provides a safe space to learn and build confidence.
The skills I developed at the Clinic prepared me for my fieldwork at Aftenro Home and in a mental health setting at Essentia's Miller-Dwan Building.
What impact does the maurices Community Clinic have on the Duluth area and community?
The maurices Community Clinic serves people who don't have insurance or are underinsured, who have a disability or limitation, and who want to participate at their highest possible level in daily activities. Both occupational therapy and physical therapy students, under the supervision of faculty, provide treatment for children, teens and adults in the Duluth area. Working directly with clients allows me to develop skills and gain experience, while helping those in the community to benefit from our services.
How has technology changed the way you assist patients?
Technology has shaped how we treat patients from the evidence we find to support treatment, to how we conduct documentation to the means we use to carry out an intervention. Specifically, the use of assistive technology like amazon products, smart home speakers, lights, screens and switches has been beneficial to help clients participate in daily occupations. For example, working with a client that may have memory deficits and implementing the use of reminders through Amazon Echo would be helpful for them in completing their daily tasks.
What support have you received from your professors and the College?
I can't begin to articulate the amount of support I've received from all my professors in the program. I've received academic support, resources for financial aid and support for my emotional and physical health. Our faculty genuinely cares about its students and they do their best to meet us where we are at and accommodate our collective needs.
What do you enjoy most about the program?
My classmates are amazing. They've demonstrated a kindness that surpasses what I thought I would ever have in a graduate program. They've become friends that I can lean on no matter what and have provided me with many learning opportunities that I wouldn't have gained otherwise. The people in my cohort vary in age and stages in life, which is a valuable quality for not only learning in school but in thinking about holistic care and practice. I am grateful for this group of people — I couldn't have asked for a better class to share my experiences.
What do you see yourself doing after graduation?
When I graduate, I want to gain a couple years of experience and then do some travel therapy before settling down. I'd also like to work in the community and experience emerging practice settings, such as working with the homeless population or in the prison systems. Additionally, I would like to gain some international experience.