March 16, 2015
Helping Hands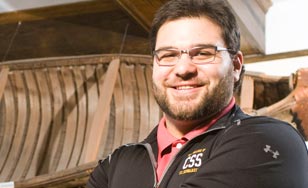 Benji Sam finds a home away from home
Benji Sam's hands are warm. They always have been. Even when he was a child they stood out — especially to his grandmother.
"She always told me I had healer hands," Sam said.
So when he was struggling to figure out what he wanted to do with his life after his freshman year at CSS — to go into physical therapy or journalism — he looked to his hands, and the helping hands of others.
"We had a prayer ceremony," he said. "We set a dish, made our asemma (tobacco) offering, and just prayed for help, guidance and pity from the spirits."
"After that, I felt really confident about where I wanted to go with my life. I knew that I wanted to do physical therapy."
And CSS is helping him get there.
Fitting In
The same sort of community support is what attracted Sam to CSS in the first place.
"When I toured St. Scholastica, the people here were just a lot more personal and friendly and really wanted to help me get to that next level, even if it wasn't here," Sam said. "I didn't tour any other schools after that."
He was also aided by a generous scholarship package from St. Scholastica and his tribe.
"With all the scholarships, it was actually cheaper for me to go to CSS than to most state schools," Sam said.
And once he got here, he wasn't disappointed.
"I love it here. Love it. Wouldn't change a thing," he said.
Why?
"I just fit in well."
Now, as a junior exercise physiology major here, he's helping others do the same. For the past two years, Sam has helped other students navigate the ups and downs of college as an RA. He's also involved in the Indigenous Student Alliance — a club at CSS that promotes indigenous equity, spreads Ojibwe culture and helps students find a home on campus.
"A lot of Native American students who come here are from a smaller areas," Sam said. "They grew up really involved in their tribe, so stepping outside of that box and coming here can be a big step. So we give them a place and a group of people that can help them transition."
Giving back
Sam knows all about being involved with his tribe. He penned his first column in the local newspaper when he was 7 and wrote consistently for them during high school. He has represented the youth of Mille Lacs Band of Ojibwe in a National Public Radio interview discussing the name of the Washington, D.C., NFL team. As a high schooler, he led discussions with tribal and state officials at the annual Mille Lacs Area Human Rights Commission Meeting. He has learned to create traditional birchbark canoes, snowshoes, baskets, quilts and beadwork. He has interned at the Mille Lacs Health System in Onamia, Minn.
And he doesn't want it to stop.
"I grew up fishing the shores of Lake Mille Lacs, ricing the surrounding lakes, hunting in the woods and providing for myself and my family," Sam said. "That's where my people are from, so that's where I want to be — back at our hospital helping people I know get back into doing what they need to survive."
And, like Sam's grandmother predicted years ago, they'll be in good hands.