July 27, 2016
Healing Heritage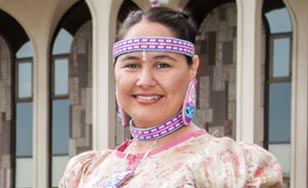 Rebekah Dunlap's deep community roots inspired international exploration
There's an old Native American story about a man whose daughter was gravely ill. In a vision, he received the means for his daughter's healing — a specific dress, decorated with jingling accoutrements, and instructions on how to dance in it. After making the dress he asked his daughter to put it on and do some spring-like movements. When she did, she began to heal, and was eventually cured. This dress is now considered the healing dress.
Rebekah Dunlap, '16, felt called to care for others long before she ever donned a dress of her own.
Early signs
When Dunlap was five years old, her mother gave birth to her twin brothers while living on the Fond du Lac Band of Lake Superior Chippewa reservation. A mother of five, she received extra care from public health nurses.
"I was always so curious about what the nurses were doing when they would come out to help with my mom and the new babies," Dunlap said. "As I got older, I was kind of a sick child as well, so I spent a lot of time at the clinic on the reservation. I remember thinking how odd it was that the nurses didn't look like the people who lived around me."
"I knew I'd study to be a nurse one day; I wanted to be a face for the community, someone they knew and felt comfortable with."
Seeking Scholastica
After seven years working as a licensed practical nurse (LPN), Dunlap was at a place to push forward and achieve another goal: her four-year nursing degree. After considerable conversation, and a healthy dose of encouragement from the welcoming admissions staff at St. Scholastica, she took the plunge.
"When I first started, I was working three jobs as a single mom, so it wasn't a quick and easy decision," Dunlap said. "I spoke with someone in the American Indian Studies department who connected me with an advisor who actually met me in the parking lot and walked me into the building. She made it so easy."
She said hospitality was something she experienced from her first moment on campus, up through graduation. And once in the School of Nursing, Dunlap was enamored with the approach to care — nonjudgmental, culturally competent and holistic in nature.
"I really liked that the program is focused on treating the whole person," she said. "We were given a foundation in medicine, but also taught not to make assumptions about what people with addictions might look like, or how spiritual or family issues might contribute to someone's health."
There, and back again
During the admissions process, Dunlap was assured St. Scholastica would do everything it could to see her thrive. So when she received an email about the Gilman scholarship — an international grant program aimed at high-performing, limited-income students — she couldn't pass up the opportunity to apply. To her surprise, she was awarded the opportunity to study halfway across the world amongst the indigenous Maori people of New Zealand.
"I was in New Zealand as part of the McNair Program, and because I was interested in indigenous birthing practices amongst the Maori," she said. "In America, we have high infant and maternal mortality rates for Native American people, but theirs are low, and have decreased over time. Ours have continued to increase."
Back home in the U.S., Dunlap was also asked to present at the annual Midwives Alliance of North America conference. The project was based on the idea of "Decolonizing Indigenous Birthing Practices."
"It's the idea of moving away from mainstream birthing practices to improve the infant mortality rate among the Native American population," she explained. "I compared the U.S. to New Zealand, and researched Aboriginal birthing practices in both Canada and New Zealand."
Serving her community
Dunlap, who graduated in spring 2016 with a BS in Nursing, has served as a doula — essentially a professional maternity aid — for more than eight years now. She is a believer in preventative care and early education, all in an effort to help revitalize her community from the inside out.
"I love working with families, and I love educating, so I definitely want to be a public health nurse," Dunlap said. "It's about helping people understand healthy practices and helping them get on the right path before an acute issue occurs."
Dunlap said she wants to be an example to those with indigenous backgrounds, demonstrating that anything is possible with the right combination of community support and spiritual principle.
In effect, she wishes to incite hope. Because hope is what drives people forward to healthy change.