March 30, 2020
Handmade with care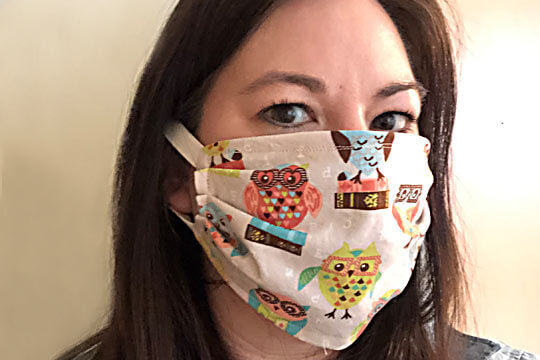 Physician Assistant student puts her free time to use by sewing medical masks
Second-year Physician Assistant student Amy Lyttle is more than willing to do her part to slow the spread of the COVID-19 virus by simply staying home.
But she wants to do more.
She's putting her skills and newfound free time to good use by sewing masks for healthcare workers on the front lines of this health crisis.
"I feel like this is the least I can do right now," she said, "other than staying home and helping slow the spread."
Lyttle's aunt taught her to sew, and she has been quilting and sewing for about 10 years. She has plenty of leftover materials that can be repurposed for this project.
She would normally be in PA clinical rotations at this time. Due to concerns over the coronavirus, her rotations were postponed.
"The timing of when we will return is still in flux," she said, "as our program wants to ensure all medical personnel and students have proper personal protective equipment before we return to working with patients."
Helping those on the front lines
With her academic career on hold, she wanted to find some way to make a difference.
"Many of my friends are healthcare providers, and the medical community is my current and future community," she said. "My sister had sent me a post about New York hospitals asking for people to sew masks and donate them because they were running so low on masks, so I decided to dig around a little further and see if there was anything I could do locally."
She connected with Blue Cross Blue Shield and Allina Health to learn more about the proper material and pattern for the masks. Each one takes about 15 minutes to make, she said.
"It's the least I can do for people working endless hours on the front line," Lyttle said.
She noted that a lot of fabric stores are sold out of the elastic used for the masks because so many people are making them at home.
"It's great to see people come together to help and support one another in times of need — we need some light to brighten up the dark times."
Once she completes her studies, Lyttle is interested in practicing primary care, orthopedics or dermatology.