March 9, 2015
Got Golf?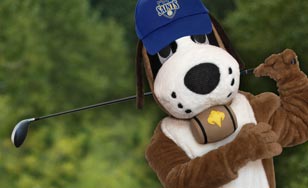 CSS does now!
Freshman Brent Nafzger played golf throughout his tenure at Albert Lea High School — earning all-conference honors for two years and all-conference honorable mention the other two. He's played on the Minnesota PGA Junior Tour and the invitation-only Players Tour.
Now he has a chance to continue the success at St. Scholastica.
Beginning in fall 2015, St. Scholastica will add men's and women's golf to its portfolio of varsity sports — the first and only college in the Twin Ports to do so.
"When I heard that there will be a golf team, I immediately called my parents to tell them the awesome news," Nafzger said. "I knew that there was a possibly of this happening, and now that it pulled through I couldn't be happier. It really makes me want to work on my game in the summer to be ready to try to make the team this fall."
Former Minnesota Class AA state golf champion and CSS freshman Andrew Sederlund shares this excitement. "Scholastica is the perfect place for many talented golfers," he said. "I believe it will be very easy to put together a solid team."
The addition of these two sports will give CSS 22 varsity sports — nearly double the amount of sports offered 13 years ago.
"The growth of athletics at St. Scholastica has been intentionally designed to meet the interest of the existing and prospective student population base," athletic director Don Olson said. "The College has acknowledged the value of the student-athlete experience as an enhancement of the total educational experience provided to our students."
The men's and women's golf program will compete in the Upper Midwest Athletic Conference (UMAC), an affiliation in which 16 of CSS' 20 varsity sports already take part.
The UMAC holds its traditional men's and women's golf seasons in the fall, with both NCAA National Championships taking place in the spring. The Saints will compete in events in both seasons.
And they'll have the chance to do it in an area known for its golf.
The city of Duluth features two, 27-hole public courses (Enger Park and Lester Park), as well as two country clubs (Northland and Ridgeview). Golf Digest once named Duluth "The Best City in America for Public Golf" and in 2014 Outside Magazine named Duluth "The Best Town in America."
A national search for a head coach is underway, with the hope of having someone in place in the near future.
Stay tuned for more updates on the golf teams.