December 2, 2016
Go your Own Way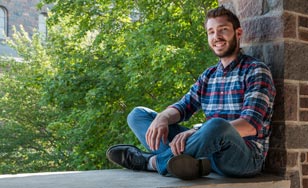 Communications graduate Thomas Gallegos experienced as much as possible, and found a path he loves
For most students, the transition from high school to college can be daunting, whether the move is cross-country or just a few miles from home.
St. Scholastica communications graduate Thomas Gallegos, '15, grew up in Duluth, but since only one of his high school friends attended CSS alongside him, he knew he'd be starting over.
So, in his first weeks on campus, he decided to give Multicultural Leadership Orientation (MLO) a try. The student-led program, which focuses both on raising awareness around social justice issues and helping students connect with CSS community life, was pivotal to Gallegos' trajectory.
"When I got into the program, I really felt a draw, and a sense of belonging," Gallegos said. "From then on, I tried to join as many clubs, and as many things as I could."
That's not an overstatement. Gallegos poured himself into everything from MLO, Dignitas and Delta Team to choir and Vocal Revolution. And while he loved these pursuits, it wasn't until he joined The Cable — the student newspaper of St. Scholastica — that he uncovered a career path.
Power of the pen
As chance would have it, Gallegos picked up an issue of The Cable his freshman year and decided he wanted to contribute. He started with a movie review column, but quickly progressed from there. By the time he was a junior, he was co-editor with fellow classmate Shelby Lonne.
"I started as a journalist, but evolved into a reporter and really fell in love with The Cable," he said. "By the time Shelby and I were done, the paper gained wider readership and circulation, and had become a multichannel news source, with a social media manager and online presence."
Many professors nurtured Gallegos' gift, including Ryan Vine, associate professor of English, who helped him to weave beautiful prose into his editorial roles.
"He really showed me how poetry can be moving and influential," Gallegos said. "I've tried to incorporate it into my life and into my writing; there's no reason why a news story can't be beautifully written."
The path before
Now, Gallegos has begun graduate school at Colorado State University, pursuing his MS in Public Communication & Technology. In fact, he was offered a graduate assistant teaching role, which helps offset the cost of education.
"In this program, I can earn my master's in two years, and then get my PhD; I really want to become a professor," he said. "I love to do research in media communications, and hope to explore my thesis idea in depth."
When Gallegos looks back on his time at St. Scholastica, he's glad he chose to experience so much, and he believes it's a place students can truly find themselves.
"Try as many things as possible, and learn who you are," he said. "If you're interested in nursing, see if you like to write. At St. Scholastica, there are so many ways to explore who you are and how you fit in the world."