July 27, 2016
Global Perspective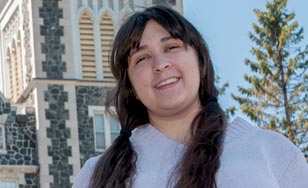 Maria Olivares Boscan's thirst for cultural knowledge has brought her to CSS, and beyond
For Global, Cultural and Language Studies (GCL) major Maria Olivares Boscan, the pursuit of cultural competence isn't some higher calling or noble mission — it's a practice of simple manners.
"The world is not just based on my cultural experience and it does not revolve around my particular feelings or limited understanding of any one issue," Olivares Boscan said. "It is more about the journey of learning to meet people with acceptance rather than with the indifference or hostility that comes from being too encircled in our own experience."
From an early age, Venezuelan-born Boscan found herself fascinated with other cultures — languages, how people live, how they look. Everything.
"I had a Venezuelan-American neighbor when I was seven years old. She taught me about U.S. culture, which motivated me to learn English and visit the United States," she said. "From there, I was fortunate enough to get into an international school, which nurtured my curiosity."
North Shore-bound
A friend of the Olivares Boscan family — and a CSS graduate — suggested Maria apply to St. Scholastica back in 2012. When she was accepted, Boscan's family pooled funds to send her from Venezuela to St. Scholastica in Duluth. That, along with substantial scholarship support, was enough to make the move from South America.
Once on campus, Olivares Boscan plugged in immediately, joining many clubs and organizations while earning Dean's List honors every semester.
"I was in Anime club and Asian Student Union, I wrote for The Cable and North Star Reports, and was able to take part in Scholastica's honors program," she said. "Before that, I was an officer in the International Club and assisted Queer-Straight Alliance with some events, and interned at the Office of Equity, Diversity and Inclusion under Nam Provost."
Olivares Boscan mentioned a slew of professors who have invested in her development, calling both Dr. Elyse Carter-Vosen and Prof. Hong-Ming Liang "incredible mentors."
"Not only have they nurtured my academic and professional interests, but they have pushed me to explore and expand my boundaries in and out of the classroom," she said.
Big opportunities
Specific interest in Japanese culture and general interest in global affairs — plus, excellence in the classroom — landed Olivares Boscan the prestigious CULCON internship. The program, a Japanese-American educational partnership in Washington, D.C., allowed her to experience immense cultural exposure and an abundance of networking opportunities.
"I feel like the Washington semester is an experience that everyone interested in the world should take," she said. "Whether your major is psychology, nursing, international studies or commerce, everyone can benefit from learning more about the workings of the capital of one of the most influential countries in the world."
Looking to what's next, Olivares Boscan graduated this past spring and began searching for fulfilling work where she could, for example, help international students bridge cultural gaps in America. Students whose experiences mirror her own.
"I derive a lot of satisfaction from helping people find their footing in a new environment," Olivares Boscan said. "As a result, I am looking for positions that facilitate helping with different kinds of transitions — working with migrant integration, refugee resettlement and college recruitment are some preferred options."
Maybe she'll inspire a generation of culturally competent students. Maybe she'll start a nonprofit. Either way, with her passion, it's certain Olivares Boscan will make a lasting difference.