July 11, 2017
Getting Results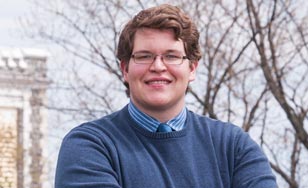 Christian Schmidt's research opened his mind to a future in mathematical modeling
In a family where attending St. Scholastica is the norm, it was only natural that Christian Schmidt '17 found his way to campus in Duluth as well.
And while the allure of team sports was always there — he played both football and rugby at CSS — his true passion lay in the laboratory. As a double-major in mathematics and biochemistry, that's where the action is.
Two professors, Luther Qson, PhD, and Jennifer Maki, PhD, were integral in helping Schmidt find a path.
"When I was trying to figure out what I wanted to do in the future, Dr. Qson and Dr. Maki helped merge my aptitude in math with interest in the sciences," Schmidt said. "Biomathematical modeling seemed to be a great fit."
Whooping cranes study
Through a recommendation from his professors, Schmidt spent summer 2016 in Texas through the National Science Foundation's Research Experience for Undergraduates (REU) program analyzing the foraging patterns of whooping cranes, a species currently listed as endangered.
"I ended up modeling whooping crane foraging and what optimizes their diet when they spend summers in the salt marshes in Texas," Schmidt said. "We'd read science journals and research whooping cranes and their behaviors to get an understanding of how food availability changes based on water conditions. Then, we would try to illustrate it mathematically with differential equations."
Schmidt said the research he took part in could be used to help preserve an environment where whooping cranes can thrive.
"You could take the model we built and show it to politicians or other decision-makers to show how much water should be let out of dams on the river, or demonstrate how sea-level rise can diminish their habitat," Schmidt said. "We're trying to protect this species, and our work gives the statistical foundation for changes that need to be made."
Soil study
In spring 2017, Schmidt partnered with professor Daniel Westholm, PhD, to study how soil is recolonized after a minor extinction event like a forest fire where the top layer of soil is destroyed.
"We researched viral populations in soil where we would take samples and put it in a buffered solution, centrifuge it and filter it well, and then stain with DNA stain to identify viruses or virus-like particles," Schmidt said. "From there, we're able to count how many viruses are in the soil, and this established process will allow us to expand the research in the future."
Overall, Schmidt said his research experiences were illuminating.
"It was great to get practical experience and get a feel for the work that it takes to find data that matters," he said. "It's so easy to take the research we see in textbooks for granted."
Grad plans
Both projects gave Schmidt the real-world experience needed to truly test his skills, and put him one step closer toward his ultimate goal of one day working with the World Health Organization.
In fall 2017, Schmidt will travel south to attend graduate school at the University of Wisconsin-Madison where he'll study epidemiology.
"It's fascinating because diseases are constantly changing, and I'll be able to use the skills I've built to help people," he said. "My long-term goal is to work as an epidemiologist for the Center for Disease Control and Prevention, the World Health Organization."
Though Schmidt found the entirety of his education valuable, it was the small class sizes and personal relationships with professors that helped propel him to great academic heights.
"I really like how the faculty have a genuine interest in the students and helping you learn and grow as people. I have friends who've attended other colleges, and they hardly know the professors at all. I can literally go to my professors and talk about anything."