September 14, 2016
Future in Focus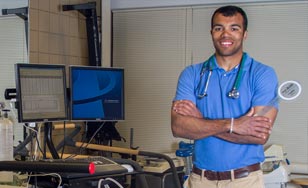 Early interest turned into a career path for BS in EXP grad Aaron Nissen
It's tough to know where a person might find the passion for their future profession, but for Exercise Physiology (EXP) graduate Aaron Nissen, '16, he can trace it back to a physical therapist's office back in high school.
"I was a pitcher back in high school, and I injured my rotator cuff and had therapy done," he said. "I began observing a physical therapist, and she kind of got me rolling and really interested in the field."
He's come a long way since high school. In fact, Nissen is the fourth St. Scholastica graduate in three years to gain admission to the prestigious Doctor in Physical Therapy (DPT) program at Mayo Clinic in Rochester, Minn.
Love of learning
Many students change majors during their time in college, but from start to finish, Nissen was resolute. And once he became immersed in courses, his aspirations crystallized into a clear vision for the future.
"My junior year there were labs attached to classes I was taking, and the hands-on experience made it more real for me," Nissen said. "I started to experience client-patient interactions, even though the 'patients' were other classmates."
Nissen said the on-campus exercise physiology labs were a place where the profession came to life.
"We did a broad range of testing in the lab — cardiovascular training and musculoskeletal testing where there's more muscle movement and measuring reaction time," he said.
While Nissen took every opportunity to learn and participate, he said the professors in the program were "on a mission."
"They were all really passionate about what they were teaching, and from the start I knew I was in good hands gaining my degree and learning from them," he said.
Taking flight
Now, in his new program, Nissen is excited to build on the solid foundation he received on campus in Duluth.
"I know in my very first year I'll be in the cadaver lab quite a bit, and I was a teaching assistant in the cadaver lab at CSS," Nissen said. "I think I can excel in classes at Mayo because I had such a great background at St. Scholastica."
Looking back, Nissen believes St. Scholastica was the right place to launch his career.
"I was really impressed with Scholastica from the beginning," he said. "The transition from high school was easy, and the small classes and interaction with the professors made it possible to establish a personal relationship with them."