March 30, 2016
Fulfilling a need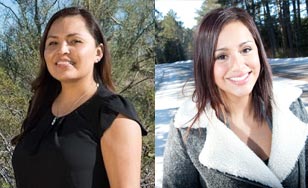 Social work programs help American Indian students give back
Native American reservations are among the communities with the greatest documented need for social workers, yet a disproportionately low number of indigenous people serve in those roles.
St. Scholastica hopes to change that by giving Native American students the preparation and education they need to bring meaningful, positive change to their reservations. Here are two of their stories, one from a current social work student in Arizona and the other from a recent social work graduate in Minnesota.
Jacquelyn Goodluck
The voice of Jacquelyn Goodluck's grandmother echoes in her ears.
"She would say in Navajo, 'My child, you're going to go to school. You're there to learn something, and one day, you're going to come home and do something for our tribe.'"
Growing up on the reservation, Goodluck had a firsthand look at the difficult realities many of her people experienced as part of their everyday lives: addiction, domestic violence, child abuse, poverty. Those struggles came into even sharper focus during her time as an emergency medical technician for the Navajo Nation.
"I felt like I needed to do something, and that's kind of my grandmother's words creeping back to me, that I needed to go back to school and do something."
Finding her way
She researched different career paths that sounded like promising ways to make a difference on the reservation. Eventually, she connected with Marcia Runnberg-Valadez, St. Scholastica's Arizona social work site coordinator.
"It just clicked," Goodluck said. "Finally, I felt like somebody understood what I wanted to do."
"Jacquelyn's desire to succeed in the social work program and give back to her community is remarkable," Runnberg said.
Goodluck enrolled in the first cohort of social work students of St. Scholastica's Arizona program during the fall 2015 semester. She is scheduled to graduate in May.
She says her time at St. Scholastica helped solidify all of her past life experiences to form a clear and meaningful career goal.
"Being raised by independent women on the Navajo reservation showed how to be an advocate, a broker, counselor, mediator, researcher, and more, but St. Scholastica taught me how to recognize my strengths and how to use these tools as a social worker," Goodluck said. "You become emotionally invested."
She's currently serving as an intern at Devereaux Residential Treatment Center, where she is co-facilitating support/therapy groups. She is also paying her experience forward by serving as a mentor to younger students.
Eventually, Goodluck wants to start her own nonprofit organization on the reservation to help veterans and adolescents. As her grandmother predicted, she is gaining the knowledge that will help her to help others.
"I feel like today, that's why I'm in school," Goodluck said.
Rita Aspinwall
When Rita Aspinwall needed a boost of inspiration as she made her way through school, she only had to look to her children.
"They were pretty much the driving force for me excelling in school, my motivation to keep going," said Aspinwall, mom to two young sons, Kayson and Kade. "When I think of them, I want to be a good role model."
She wants to serve as a positive influence not only for her two little boys, but for other Native American children in her tribal community and beyond.
Driven to give back
Upon graduating in December 2015 from St. Scholastica's social work program embedded at Fond du Lac Tribal and Community College, her job goal was clear.
"I always wanted to give back to my reservation, the Fond Du Lac Band of Lake Superior Chippewa," she said, "and this is one way I knew I could give back."
Upon graduating, Aspinwall started working in social service on the Fond du Lac Ojibwe reservation.
She's also giving back in another way, through serving as the new host of the Duluth-based public television series "Native Report." A magazine-style series that celebrates Native American culture and heritage, the program can be seen in 100 TV markets across 28 states.
She's excited for the chance to bring issues in the Native community to the forefront of discussion by pitching them for the "Native Report" show.
"I'd really like to be a positive model for Native American youth," she said.