July 22, 2014
From MRI to CSS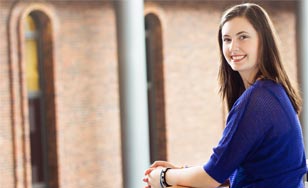 Stephanie Catton overcomes a brain tumor to succeed
After two months of double vision, fatigue and headaches, Stephanie Catton had an MRI scheduled for May 14, 2010. Her friends wanted her to text them afterward to let them know how everything went.
That text never was sent. She was busy being rushed into the hospital for the removal of a quarter-sized benign brain tumor and drainage of the tennis ball-sized cyst it created in her head.
The aftermath
While the surgery was a success, the invasive procedure left her with the left side of her body paralyzed, 20/200 vision in her right eye and short-term memory loss. Even the most mundane tasks were now a challenge for her.
"One day, my mom walked me into the bathroom and told me to brush my teeth," Catton said. "I just stood there staring at myself in the mirror, not knowing how to brush my teeth."
But after months of physical and occupational therapy, she was able to get back to doing the things she loved. She played saxophone in the band and got her spot back on the Buffalo High School varsity tennis team, even with persistent double vision.
"And don't worry, I'm able to brush my teeth now," she said.
Learning to learn
But she wasn't back to business as usual. She still had short-term memory loss and will likely to continue to have it the rest of her life.
"I can remember stuff from first grade perfectly, but I can't remember stuff from earlier today."
This makes studying quite the challenge. But with help from her teachers and the adaptations they made for her, she used visual learning techniques and re-taught herself the material over and over, night after night to bounce back. Eventually she was even recognized by KARE 11-TV as an Academic All Star.
The transition
Just as she was getting the hang of school again, another transition was on the horizon – this time to college.
"I knew I needed a small school, and St. Scholastica fit everything I needed and wanted perfectly," Catton said. "It's a beautiful place and the close-knit community is important to making the most of my experience here."
For her, this is best exemplified in Students Today Leaders Forever (STLF), a student organization that leads an annual spring break bus trip taking 30 to 40 students to various cities across the country to do service projects.
"The most support I have here comes through my friendships in STLF," she said. "After spending spring break traveling 3,500 miles with them, I definitely feel comfortable talking with them all about anything I need."
She gets academic support from counselors at the Center for Equal Access on campus, who work to allow her extra time for tests and other adaptations.  Emotional support comes from friends from Camp Mak-A-Dream, a summer camp in Montana for teens and young adults who've had cancer or significant tumors. She's been a camper before and will be a volunteer staff member this summer.
Overcoming
In large part, the support and hard work is paying off. Catton is on track to graduate with a psychology degree and a self-designed minor in American Sign Language in 2016. She plans to become a Child Life Specialist, helping kids who are experiencing the same sort of things she did.
Yet her own struggle remains.
"People want to help, they just don't always know how to. And a lot of times, I don't know either. But you live and you learn — and sometimes you learn and forget," she said with a laugh.