May 30, 2014
From Kenwood to Hollywood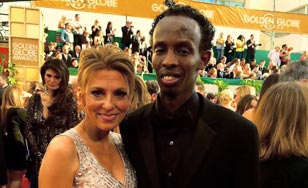 Debbie DeLisi's CSS education has her reaching for the stars
As a casting director for films and television shows, Debbie (Kaszynski) DeLisi is used to seeing the people she works with walk the red carpet. But when the Golden Globes came around this past January, she found herself playing a new role — participant.
Barkhad Abdi — nominated for Best Supporting Actor for his role in the film Captain Phillips — brought DeLisi along to the show as his escort. DeLisi led the Minnesota casting for Captain Phillips — ultimately landing Abdi his breakout role and an Oscar nomination.
But if you told the high school version of herself that this would one day happen to her, she would have thought you were the one lost at sea.
"Growing up, I wanted to be a doctor," DeLisi said. "I received the biology scholarship from my high school and the blessing of my biology teacher, and seemed well on my way."
What happened? Put simply, St. Scholastica.
Finding her voice
After a ski accident near the end of high school, the appeal of medical school faded and DeLisi was left searching for a new path forward.
She tried a few different majors at CSS before settling down as a communication major, but in the process she found something much more important than a course of study.
"Throughout high school, I secretly wanted to be a theater geek, but no one in my world was an actor or a working arts professional, so it seemed very distant to me," DeLisi said. "But at CSS, I found my voice, the courage to express it and the resources I needed to feed it."
This self-discovery is, in large part, a product of the diversity of experience she encountered at CSS.
"Instructors were always willing to say 'yes' to the nontraditional items that colored my educational experience," DeLisi said. "I cannot say enough about how helpful my partnership with my professors was."
Full circle
Building on this foundation, DeLisi began acting after graduating in 1990 — eventually moving on to professional gigs in both acting and casting in Minneapolis, Chicago, New York City and Los Angeles.
As a casting director, she often works 12.5-hour days viewing auditions and scouring subways, rodeos, beaches, farms, gas stations and clubs looking for talent.
The hard work pays off. In addition to Abdi, DeLisi helped cast another Oscar nominee, Hailee Steinfeld, for the film True Grit, from a group of more than 10,000 girls who auditioned.
Now, she's set to debut her new film, The Re-Gift — which she co-wrote, co-directed, produced and acts in — at the Duluth-Superior Film Festival on May 31.
But no matter the limelight DeLisi finds herself in, she'll never forget St. Scholastica.
"The beauty is that I didn't necessarily get a degree in what I do today, but the education I received at CSS prepared me anyway," DeLisi said. "There was no other institution that could've provided more of a vast, all-encompassing scope of knowledge and experience than CSS."
"I was armed with the experience of using my head, heart and soul, and that really has meant everything to me."