May 15, 2015
From Couch to Club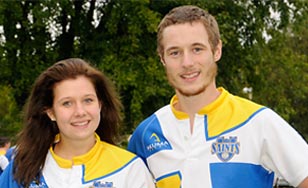 Kaitie Heenie and Tyler Selleck bring rugby to CSS
With its constant collision of bodies, rugby is a tough sport. But as seniors Tyler Selleck and Kaitie Heenie stood on the sidelines after a hard-fought loss in the CSS rugby team's first game as a part of the Minnesota Rugby Football Union this past fall, they couldn't help getting a little misty.
"Three years of work finally came together to have this," Selleck said. "And to share that moment with our team — I'll be honest, I shed a tear. It was awesome."
But as joyful as it is now, the club actually started as a result of a different emotion — frustration.
Back in the game
During the fall of their sophomore year at CSS, Selleck and Heenie were hanging out in Selleck's apartment. He was frustrated by the lack of opportunities to play rugby — a sport he had played and come to love in high school — and sat on the couch venting to Heenie.
As friends from their days at Waconia (Minn.) High School, Heenie has been through the ups and downs of Selleck's love affair with rugby, including a broken leg and late nights spent scanning the TV in search of a rugby game half the world away.
So when he proposed starting their very own rugby club at CSS, she didn't think he was crazy.
"I just thought I was going to do a lot of work," she said.
She was right. They had to present to the Student Senate, secure an advisor and a coach, fundraise, perform community service, manage the club's operations and finances, and schedule practice space and games.
But they weren't in it alone.
"To be able to start a club from nothing and for the school to say, 'Yeah, do it. If you do the work, we'll completely support you' — I just don't feel like there are a lot of schools that would do that as well as CSS did for us," Heenie said.
Tying it all together
The school's connection to rugby runs deeper than this support.
"The culture of rugby is all about watching out for each other," Selleck said. "Our motto is 'no one goes in alone,' so I feel like it fits really well with the community of Scholastica because everyone here helps and watches out for each other."
The experience has also blended well with their academic and career interests.
Selleck, a management major, formed an executive board for the club and ran it much like the corporations he learned about in class to ensure the club continues now that they've graduated.
And Heenie, a psychology and art major who wants to go into organizational development, has been able to flex her organizational muscles, if not her real ones. Though she loves the sport, she has yet to actually play it, despite Selleck's best efforts.
But as rewarding as it has been to see their club flourish, that's not their most important achievement.
"This whole process has been great for our relationship," Heenie said. "In high school, I'd go watch Tyler's games and hang out with the team afterward. So it's been really cool to create that here again together."