January 23, 2014
From Ballroom to Training Room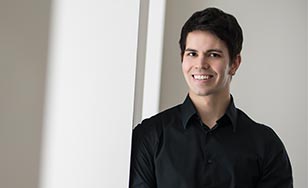 Alex Loch's winding journey to physical therapy
Rumba, cha-cha, tango, waltz and foxtrot aren't words you see on the resumes of most physical therapists. But then again, Alex Loch's journey to physical therapy is far from typical.
Midway through 2010, Alex was a ballroom dance instructor in Seattle. By the same time the next year he was in Duluth, enrolled in St. Scholastica's Doctor of Physical Therapy program.
While this may sound random, it wasn't to Alex.
"They're actually really complementary," Alex said. "The aspects of the ballroom dance that I like – the teaching, the working with people, the anatomy – are all present in physical therapy."
Hands-on
Turns out, Alex's assessment was spot-on.
At CSS, working with people is as much a part of the physical therapy curriculum as joints and ligaments. As part of the program, Alex has completed three clinical internships and is working on his fourth and final one (one each in hospital, rehab, outpatient and sports settings).
"Sometimes being in the classroom so frequently doesn't feel like physical therapy, it doesn't have a lot of meaning," Alex said. "So the clinicals help you develop that meaning, remind you why you got into it and make you think 'oh yeah, this is what I want to do.' "
This vast array of real-world experience has fully prepared Alex for the kind of patient interaction he'll have once he enters the workplace. And, interestingly, so has his time in the ballroom.
"I feel like I can communicate with a patient a little more easily," Alex said. "If something doesn't look right or I want to see something different, I'm used to communicating it because I've had practice while teaching dance."
And even with this new degree on the horizon, Alex hasn't fully given up his past – teaching ballroom and Latin dance for the Minnesota Ballet. He's also the president of the Twin Ports Chapter of the National Federation of the Blind – a cause near to his heart for he is legally blind.
After following this winding path, it's no surprise that Alex is weighing out many options for what his focus will be once he's done with the program.
But one thing's for sure, he'll keep dancing … and treating dancing injuries.