December 6, 2018
Fresh Focus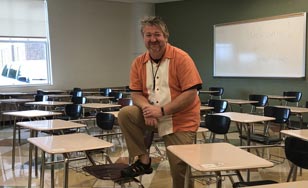 After investing in his graduate teaching licensure, Wade Petrich discovered a bright new career in the classroom
Wade Petrich '18 knew it was time for a change.
After 20 years in journalism and publishing, he sold the newspaper he co-owned in 2013 and transitioned into a new role in car sales. But the hours weren't easy on his family, and he wasn't using the skills he'd spent decades developing.
In the past, Petrich had often considered the idea of becoming a teacher, especially because he had seen many family members enjoy fulfilling careers in the classroom.
But the idea of returning to school — after so much time had passed, and because he had struggled with academics at a large state university — was intimidating.
Despite this, Petrich forged ahead into the Graduate Teaching Licensure (GTL) program at The College of St. Scholastica. A timely conversation with one of the College graduate programs recruiting coordinators, plus the support of his friends and family, helped solidify the decision.
"My grades in undergrad were not stellar, so I ended up starting in probationary status," Petrich said. "It made me more serious, and I knew going to a smaller school would be better because of the accountability and more focused attention on each learner." Petrich ended up earning a 4.0 GPA in his first semester at St. Scholastica.
Going all in
For Petrich, the years long gap between undergraduate and graduate school – specifically, academic writing and coursework – presented a tough learning curve that might have proved insurmountable had it not been for his GTL cohort.
"The cohort was something that was really fun to be a part of," Petrich said. "You're all in the same boat, so there is a camaraderie that gets developed over time. We even started a Facebook page where we could connect if someone had a question."
Petrich said it was encouraging to learn from GTL professors who had deep roots in education.
"One of the first people I met when I worked for the Hermantown Star in 2000 was Neil Witikko, who ended up teaching my first class at St. Scholastica," Petrich said. "I remember him saying, 'I'm glad you finally made the switch from covering education to teaching.' It was a really encouraging moment."
Additionally, the online learning environment and occasional weekend courses were the perfect fit for Petrich's family life and full-time work schedule.
"The last time I was in a classroom, simply having an email address was a big deal, so there was an adjustment," Petrich said. "But as I got acclimated, the ability to work at my own pace, plus minimal in-person class time, was beneficial."
The payoff
Shortly after he completed his GTL in May 2018, Petrich interviewed with a number of area schools before receiving an offer to teach seventh- and eighth-grade English at Ordean East Middle School in Duluth.
"I feel very fortunate that I was able to get a job here in the community, and to work with such supportive staff," Petrich said. "Working so close to home and being present for my family has been a big deal."
And now, with a successful career transition under his belt, Petrich said the GTL program prepared him well for the next step.
"This program is designed to make you successful if you're looking to make a transition into education," said Petrich, who is now pursuing his Master of Science in Teaching. "For me, the biggest testament to the structure is how they prepare you organically for the licensure exam by building in math, reading and pedagogy courses. We were just ready."