July 12, 2019
Flight plan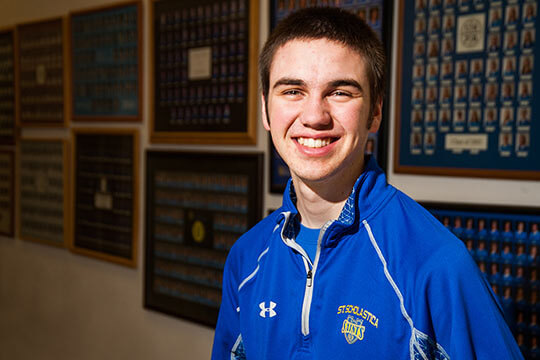 Sophomore Tim Jessen is taking steps to earn his nursing major, then realize his dream of becoming a flight nurse
Tim Jessen '21 has known what he wanted to do for a living since childhood.
With a family full of medical professionals, the idea of serving his community with life-saving services has always been at the forefront.
His sister Sarah — a registered nurse — would recruit her little brother so she could practice basic skills.
"I was kind of a guinea pig — sort of her mannequin for training sometimes," Jessen mused.
But it wasn't until he encountered Upward Bound — a program aimed at empowering low-income, first-generation youth who aspire to attend college — during his freshman year of high school that college entered his mind as a real possibility.
In fact, he began to see it as a chance to amplify his potential.
"As part of Upward Bound, I was able to shadow at St. Luke's Hospital [Duluth] and get a feel for how a hospital works," Jessen said. "After doing some more exploration and observation, I settled on becoming a flight nurse."
A flight nurse provides medical care to patients during rescue operations or aeromedical evacuations.
"The idea of transporting critical patients between medical facilities and from trauma sites is intriguing — there's so much to account for every time you go out. I'm really interested in the faster pace, too."
Warm welcome
Jessen visited a number of colleges as part of his Upward Bound journey. His decision to attend St. Scholastica was rooted in the promise of access to professors — real relationships with those who were responsible for his education.
"I can't say how much it has meant to be able to have so much contact with professors," Jessen said. "I wanted the smaller school feel and having ongoing conversations — not just in the classroom, but other common areas, too — has been a big deal."
When Jessen arrived at St. Scholastica, the sense of community and support from students and faculty felt like confirmation of his decision to attend.
"As soon as I arrived for Welcome Week, it was incredible that so many upperclassmen were interested in making sure that new students felt at home," said Jessen, who now serves with Team Delta — the St. Scholastica orientation team.
Double duty
When he's not immersed in course materials, Jessen spends a great deal of time at Carlton Fire and Rescue as a volunteer firefighter.
"You never know what's going to happen — every day is a surprise," said Jessen, who was named Carlton Fire and Rescue 2018 Fireman of the Year. "As volunteers, we carry pagers. They can go off at any time. We have rescues, we have vehicle accidents and we have fire calls. And more.
"But no matter what, we're always growing and always learning — really, it's such an exciting line of work."
Jessen passed his EMT certification at the age of 18 and needs five years of nursing experience  — plus his Bachelor of Science in Nursing — to achieve his dream. With two full years remaining for Jessen, there's still a lot to learn, but he's up to the task.
"We've really gotten more hands-on this year in class, learning basic nursing skills," Jessen said. "I'm really looking forward to clinicals and shadowing professionals — each day in the program is a step closer to making this happen."