April 20, 2020
First Class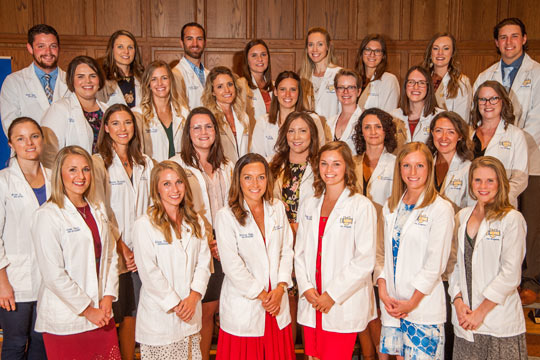 St. Scholastica's Physician Assistant program welcomed its first students in the fall of 2017 with the promise that graduates would be poised to meet critical needs in the rural healthcare workforce. Two years later, the first cohort of students has graduated and started their careers, and the PA program is living up to its word.
Out of 29 program graduates, 20 had already found jobs as of December. Several have delayed job searches because of pending moves or family demands. Of the 20, 11 are working in rural/underserved areas, and 15 are employed in Minnesota or Wisconsin.
Kelsey Hansen, Marshfield Medical Center — Rice Lake
Kelsey Hansen '19 is a general surgery Physician Assistant at Marshfield Medical Center — Rice Lake, a tight-knit community of about 8,400 an hour north of Eau Claire, WI, on the edge of the Chequamegon-Nicolet National Forest.
"It's been fun getting to know people in the community and a lot of times, we're treating someone and then end up treating a different family member at some point," Hansen said.
"It's really interconnected."
There are pros and cons to working in a rural community, she said.
"There have been some physicians and PAs that have left for larger areas," she said. "You definitely feel that void here. We have to be a good steward of our resources when it comes to employees and equipment. It can take a while to get those things."
On the other hand, she said, it provides unique opportunities for young medical professionals like herself.
"I really like my job — I really like working in a rural area. I feel like I'm utilizing a lot of different skills that I wouldn't if I was in a bigger center. I'm going to be trained to do some more invasive procedures, and possibly do some orthopedic surgeries as well.
"In a rural area like Rice Lake, I've been able to practice to my full scope and potential. They threw me right in for sure."
Jacob Bottelberghe, Avera Marshall Regional Medical Center
Jacob Bottelberghe '19 is originally from southwest Minnesota. He landed a job close to home as a surgical Physician Assistant at the Avera Marshall Regional Medical Center in Marshall, MN. His position, which mostly focuses on orthopedic surgeries like joint replacements, is a newly created one.
"I love it," Bottelberghe said. "In school I really liked anything procedure-based, surgical. This job allows me to be in that environment a lot."
Marshall, population 13,600, is a farming community nearly three hours west of the Twin Cities. Sioux Falls, SD, population 176,000, is the largest nearby city, but it's an hour and a half away. The Marshall hospital is the only option for miles around, particularly for specialized treatments.
"People coming from an hour away is not unheard of," Bottelberghe said. "There are small clinics in some of the smaller towns. But to get orthopedics, podiatry, surgery — this is the closest place they can do that."
Bottelberghe said his own interviewing process shed light on the difficulties rural hospitals face in attracting top talent to smaller towns like Marshall.
"They knew I was from here," he said. "I already knew what I was signing up for."
He sees longevity in the staff, but when vacancies do happen, they're difficult to fill. With that critical need in mind, Bottelberghe is glad to be able to help meet the community's healthcare needs, especially since he's from the area.
"People who grow up in a bigger city … it's hard to understand unless you experience how rewarding it can be to help somebody that might otherwise not have that opportunity."