July 16, 2015
Finding Her Selfie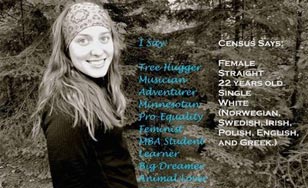 Jenna Dobosenski's liberal arts education gets her noticed
By her own admission, Jenna Dobosenski isn't really a "selfie person." But when National Public Radio (NPR) put out a call for millennials to share a selfie, along with a comparison of the words the census uses to define them and how they would identify themselves, she couldn't resist.
Tree hugger. Musician. Adventurer. Minnesotan. Pro-Equality. Feminist. MBA Student. Learner. Big Dreamer. Animal Lover. That's how Dobosenski described herself.
And now millions of people nationwide know it. Out of the thousands of people who submitted their selfies, Dobosenski's was one of four to be featured nationally on the radio and online.
But it wasn't easy.
"Identifying what I felt I represent was a real challenge," she said. "It took me out of my comfort zone and forced me to reflect on myself and evaluate how I live out the standards I've set."
Fortunately, she's had plenty of experience in this at St. Scholastica.
Unintended consequences
When Dobosenski was considering colleges, one thing she didn't prioritize was a liberal arts foundation.
"I was pretty confident that I wanted to go into physical therapy at the time, so I wasn't looking for that at all in a college."
But after being exposed to a number of different subjects once she got here, she discovered a new path – management. And it didn't just change her career trajectory. It changed the way she thought.
Courses in subjects like philosophy, religion and ethics exposed her to issues and points of view she had never considered before. Open discussions with professors and peers in and out of the classroom taught her how to relate to people with different values and beliefs. And assignments and papers made her examine her own thoughts and actions more critically. All adding up to an experience that made her a better person and a better manager.
"Diversity in ideas, thoughts and reason can evoke positive change in an organization, so I think it's important for managers to embrace it," she said. "Liberal arts has helped me do that. I couldn't imagine not having it in my education."
The return
Her growth has continued after graduating in May 2014 with a double major in psychology and organizational behavior, as she immediately continued her education in St. Scholastica's dual MBA/Master's in Management program at the College's downtown St. Paul campus.
"Even though the location has changed, the culture has not," Dobosenski said. "I've been able to share a classroom with professionals of all ages, backgrounds and experiences. I couldn't ask for a better learning environment than that."
The experience is already paying dividends for her career, as she is serving as an administrative intern at Regions Hospital.
But her Scholastica journey may not end with the program. After getting some practical experience in the business field, Dobosenski someday wants to get her PhD in Organizational Behavior. She might even find herself teaching at a college someday. She already has one in mind.
"I'd love to come back and teach at St. Scholastica."