March 1, 2017
Fighting for justice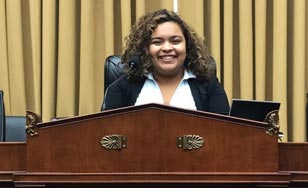 Diana Mena '17 is finishing her CSS career with an immersive semester in Washington D.C.
As the first in her family to go to college, Diana Mena '17 thought it was accomplishment enough to simply attend. But she found much more than just a degree at The College of St. Scholastica.
The awakening
When she arrived on campus, Mena was interested in the renowned nursing program. But as she began taking classes, she found that while she loved helping people, she wasn't passionate about science. Coincidentally, Mena became immersed in — and truly fascinated by — the teachings of the Multicultural Leadership Orientation (MLO) program.
When she looks back, this pivotal time set the stage for her transition to social work.
"It was incredible because my experience in MLO helped to identify some of the reasons I had trouble owning my Latino heritage," said Mena, who is double-majoring in social work and peace and justice studies. "And when I realized a lot of other people had similar stories to mine, it led me down the path to social justice and social work."
As she experienced core classes within her major studies, Mena mentioned one professor, in particular, who made an impression on her.
"Dr. Elyse Carter-Vosen helped empower me academically once I made the transition — she helped me find my voice, and helped me see the value of my perspective," Mena said.
Political primer
As she began to envision a future as a change-agent, Mena saw a need for education beyond undergraduate studies. That's where the resources and guidance from McNair Scholars — a program focused on empowering first-generation students and students of color to succeed in graduate and doctoral study — became a vital part of her progress.
"The McNair program really opened my eyes to the possibility of going to grad school," Mena said. "I was able to visit graduate schools and speak with professors, ask questions, and really see that this could be my future."
Through McNair, Mena navigated the logistics of her Washington Semester, offered through St. Scholastica — a partnership with American University where students choose one of 12 learning tracks, complete an internship in Washington, attend seminars and prepare a presentation.
For Mena, who left for Washington in January 2017, the experience has been transformational.
"I never knew how much I would love politics, and being so informed. We're hearing from members of Congress and Supreme Court justices — really, all kinds of incredible people," Mena said. "Being in the heart of the action has been a highlight for me."
And while she knew she wanted to work toward a law degree before her East Coast adventure, her Washington internship at legal assistance organization Mil Mujeres has become fuel for her pursuit.
"Every day, I'm working with undocumented citizens who have experienced domestic or sexual assault, and need legal services," Mena said. "I'm learning so much because I'm working directly with these immigration lawyers, which is exactly what I want to do in the future."
As she looks toward her May graduation, Mena has a sense of gratitude for her time at St. Scholastica.
"I felt like the school saw something in me — like they planted a seed, and over my time at St. Scholastica I've been nurtured and have started to become a person who can make a difference," Mena said.