June 19, 2014
Duluth Wins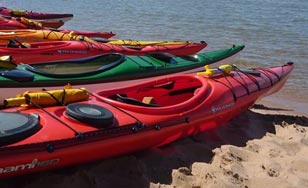 Outside Magazine names city "Best Town in America"
It came as no surprise to locals when Duluth overwhelmingly beat out 63 other communities to claim the title of  Outside Magazine's "Best Town in America" in an online vote that wrapped up in mid-June.
Thanks to the contest, Duluth's outdoor opportunities are now being showcased on a national stage. For college students seeking to experience the full range of these options, The College of St. Scholastica is a perfect fit.
With a campus of 186 wooded acres high on a ridge overlooking Lake Superior, St. Scholastica personifies the Duluth spirit of embracing the outdoors. But it's not only the setting that makes the most of our environment. St. Scholastica's popular Outdoor Pursuit program gives students a chance to take part in amazing adventures, from wilderness canoeing to Lake Superior kayaking to ice climbing.
No experience is required. The goal of the program is to allow participants to safely and respectfully explore and grow through experiential learning. Guided trips take advantage of northern Minnesota's bountiful natural resources and breathtaking spaces while offering physically and emotionally safe challenges. All training and equipment is provided.
Most of Outdoor Pursuit's 80 activities each year cost very little or nothing. Once-in-a-lifetime outdoor opportunities also include winter camping in the unspoiled Boundary Waters Canoe Area, rock climbing, and dog sledding.
"Compared to other private schools of similar size, we blow everybody out of the water," said Shawn Olesewski, coordinator of Outdoor Pursuit. "The amount of programming we run, the equipment we have and the overall accessibility, nothing compares."
Students who take part in Outdoor Pursuit activities report that the programs contribute to their intellectual and holistic growth, help them live healthier lifestyles, and provide a great way to meet new people and make meaningful connections.
Offering at least one trip nearly every week of the school year, Outdoor Pursuit hosted 584 student participants on adventures in 2013-14.
Students can even get physical education credits for a selection of activities. Imagine canoeing in the Boundary Waters for class credit — it's all just business as usual at St. Scholastica, in the best town in America!