May 8, 2017
Dream World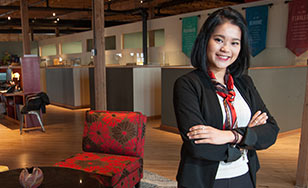 Zhara Davies moved from Jakarta, Indonesia to the shores of Lake Superior and created the life she always wanted
When Zhara Davies '16 talks about her time at St. Scholastica, you can detect her sense of wonder and gratitude.
"My mother taught me to be an independent woman, and that no dream is too big," Davies said. "Most girls from my country don't hear that message."
As an international student from Indonesia, Davies recalled the joy that came from getting accepted into St. Scholastica … on her birthday, no less.
"I'm a pretty relaxed person, but I cried and I was so overwhelmed," Davies said. "I mean, I did research on Duluth and everything, but I'd never been to America before. It was a lot to think about."
And while leaving home meant long stretches without seeing family — especially her mother, with whom she is very close — a determined Davies decided to make the move in fall 2012.
"I arrived earlier than many of my international peers, so I had a chance to bond with American students, too," Davies said. "Although I loved my orientation and early days on campus, it was still difficult for me to see my mom leave."
Support network
For international students like Davies, saying goodbye to their parents for the first time to start college far from home can be a difficult transition. As the Office of International Programs (OIP) director at St. Scholastica, Alison Champeaux knows students need a great deal of support as they walk through their college experience.
"Every year our international students arrive on campus early, and we have several days where we're able to greet them, show them around Duluth, have some meals together and help get acclimatized," Champeaux said. "The formal orientation starts a few days later, where we cover topics like cultural adjustment, academics and immigration.
"From there, we meet with students throughout their first semester to resolve any issues, or just talk about their experience."
Davies got to know the OIP quite well — she served as an office assistant for three years, and summer program coordinator for two summers. Not only did she learn important job skills that would translate to future opportunities, she also had the chance to help other international students transition to life at St. Scholastica.
"Every choice we made to welcome and help integrate international students was intentional, from the topics at orientation to the places we would visit around town," Davies said. "The students may not have recognized it, but we were always looking out for them and trying to find ways to help."
During her academic journey, one of Davies' strongest advocates was her advisor — and assistant professor of marketing and management — David Anstett, MBA.
"Dave helped me achieve a double-major in both Marketing and Management by helping me create a customized path that allowed me to fit my interests with the curriculum CSS offers," said Davies, who also earned an Art minor. "Plus, he's really funny, and has incredible stories. I could talk with him for hours."
Connecting with employers
According to Champeaux and Director of Career Services Mary Anderson, one of the biggest challenges for international students is the process of articulating their accomplishments for an American employer in order to compete for jobs post-graduation.
"We've put processes in place to help measure professional readiness for student employees. We work hard to assist students in taking their specific skill set and adding to it with foundational job competencies, to be ready for the workplace." Champeaux said.
Anderson said the Career Services team helps students promote themselves to potential employers.
"We spend time with each student, helping them to figure out what will set them apart in the marketplace," Anderson said. "In preparation for interviews, we provide opportunities to practice articulating their experiences and sharing their stories."
Settling down
With a well-built resume full of valuable real-world experience — three years in the CSS marketing department performing website maintenance, plus a six-month marketing communication internship at Lake Superior Art Glass — Davies was able to secure a post-graduate account executive internship at HTK Marketing in Duluth.
After just three months, Davies made such a great impression that HTK extended her an offer of full-time work in December 2016 as Strategist Coordinator. Plus, they're sponsoring her H1B visa status, which — if she is selected in the upcoming lottery — would allow her to work up to three more years in the United States.
In her role at HTK, Davies supports agency account executives in a wide variety of ways. It's safe to say she considers it a good fit.
"This job is perfect for me," Davies said. "I'm working with account executives every day, and that's what I want to do in the future. I love brainstorming marketing strategy, researching customer behavior and segmentation, and taking notes — I love being a part of these conversations."
"I'm surrounded by the most creative people I know. They inspire me every day."