March 23, 2020
Dream job with the Minnesota Twins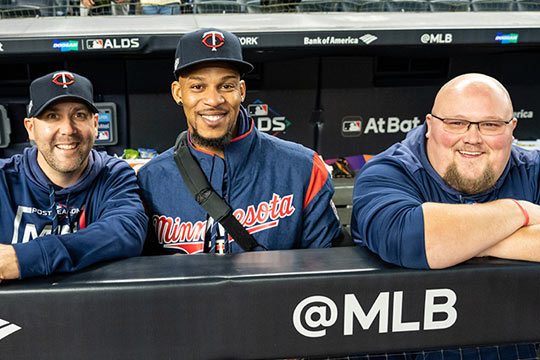 Jeff Lahti '01 reaches the big leagues of physical therapy
Just about everyone enjoyed watching the record-setting 2019 Minnesota Twins. But not everyone enjoyed the same view as Jeff Lahti '01, who served in his second season as a physical therapist for the team.
"Obviously we had a great year — a transformation of sorts," Lahti said. "This is a dream job for me and I'm so honored to provide full-time physical therapy services for the team."
'A great challenge'
Lahti is a big fan, but the opportunity to work with a big-league club has been better than he imagined. Most days, he'll collaborate with the Twins medical staff to update Twins manager Rocco Baldelli on player availability and return-to-play progressions.
"We have strength coaches, athletic trainers, a nutritionist on staff, a chef and a mental skills coach," Lahti said. "It's really interesting to be a part of a bigger picture. We lean on each other for expertise and advice, and it's a great challenge to bring 100 percent every day."
Lahti said he is proud of how the team takes a player-first approach to care.
"That's the great thing about the direction we have from Rocco; we're always going to do what's in the best interest of the player," Lahti said. "We have to keep a player's career in mind with every decision we make. If health is in question, the player will not be participating that day."
Building a career
Lahti double-majored in Health Sciences and Biology at St. Scholastica, then completed his MA in Physical Therapy in 2001. From there, he began to specialize in throwing and shoulder injuries at his first job, OSI physical therapy.
After years of gaining expertise, he helped launch a physical therapy company called Viverant in the same building as the Minnesota Baseball Academy in Vadnais Heights, MN (with fellow St. Scholastica alum Adam Barta '99). He served as director of physical therapy for seven years.
"It's difficult to do physical therapy in baseball 365 days a year without an indoor facility, so it made perfect sense to share a building with Adam," Lahti said. "The idea was that we would be a resource for Adam, then market to the surrounding area to make doctors and coaches aware of the services we are offering. The grassroots effort really picked up steam."
Alumni excellence
Physical Therapy department chair John Borstad, PhD, said St. Scholastica takes great pride in alumni like Lahti.
"Graduate success stories like this affirm the quality of the program and inspire us to continue to hold high standards and expectations," Borstad said.
Lahti lives in Pine City, MN with his wife, St. Scholastica alumna Rita '99, and their daughters Sophia, 14, and Vivian, 11.