November 19, 2013
CSSyes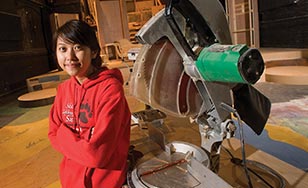 Mai Xee Pha is among a group of students to whom St. Scholastica has said a special "yes," called CSSyes.
Pha is a 19-year old sophomore from St. Paul who's majoring in chemistry. She was one of a select few students to win a CSSyes scholarship. The full-tuition award is for students who are "high-achieving, high need," in the words of Eric Berg, vice president for enrollment management. "These award recipients make a great addition to our student body."
That is, CSSyes goes to students like Pha who do well academically but face serious financial hurdles to entering college. CSSyes provides full tuition, a four-year renewal if the student maintains a minimum 2.4 GPA, and "scholarship stacking" that allows other scholarships to cover room, board and books.
"If I didn't have the CSSyes scholarship I wouldn't be able to come to St. Scholastica," said Pha, who is the youngest of six siblings and whose mother is a single parent. "It's really important to me to get scholarships." She heard about St. Scholastica from a coach in high school, and visited campus in the summertime.
"That's what got me," she said. "I thought it was such a pretty campus. When you come across the bridge over Chester Creek, it's gorgeous."
She started in pre-physical therapy but has switched to chemistry. She likes being a Saint.
"The teachers I've had so far are super-nice; if you go talk to them they'll take all the time you need to answer your questions. The club activities are a big part of what I do here. They're great."
Despite carrying a full credit load and working part-time as a carpenter for St. Scholastica Theatre ("Sometimes it's hard, but it's a stress reliever too."), she's involved with the Asian Student Union, and with a friend is trying to start an International Justice Mission club to stop sex trafficking. "That's not an official CSS group yet, but we're trying," she said.
"It's very enjoyable meeting new people," she said. "Everyone's very friendly here. I'm amazed with the clubs and personal friends I've made. I went home (to St. Paul) this past summer and it was like, I can't wait to get back up to Duluth!"
She has a simple message for people who give financial support so that St. Scholastica can offer student scholarships such as CSSyes.
"Thank you. It's people like you who help students like me pursue careers and goals for the future."