October 6, 2014
CSS Grad to Use International Studies & Economics Degree to Make an Impact in International Development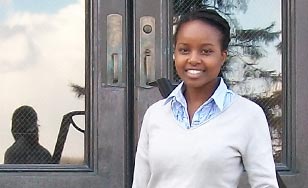 In the early 2000s Zimbabwe's economy was in the beginning stages of economic decline. The next five years would bring with them dire circumstances for the country, resulting in one of the most detrimental cases of hyperinflation in history. The economic struggle reached its height in 2008 and 2009, and by that point, Zimbabwe's currency had lost more than 99 percent of its value, causing some of the highest rates of poverty and unemployment in the country's existence.
2004 happened to be the same year Zimbabwean, Rumbidzai Sithole, was searching for colleges. The country's struggles were more than a string of news headlines to her, stirring within her an eagerness to learn more about how the economic tension could be alleviated. "I really wanted to understand what was going on and do something about it," she says.
That's when she came to St. Scholastica (CSS).
Create your own journey
Sithole's goals were clear when she began her journey at CSS, and she was pleasantly surprised to have been met with a community that has the same objectives ingrained in its core values. "I was instantly impressed by the focus on social justice and community service [at St. Scholastica]," she says.
But when it came time to choose a major, Sithole struggled to find a field that wholly encapsulated her goals and interests. That's when her management professor, Bob Hartl, recommended a more unique approach: a self-designed major.
With that, she was able to create her own major that merged economics and international studies. She could even set it up in a way that offered the flexibility to take a full semester off for an internship in New York City and Harare, Zimbabwe at the Clinton Foundation, a non-profit organization established by the former president.
She also founded student group "United for Africa" while at CSS. It is an advocacy group that is driven by the goal of raising awareness and fostering an in-depth analysis of issues affecting Africa and the African diaspora. Sithole also served as a student senator, a campus news writer and a mentor to new students.
She eventually graduated from CSS in 2008 as a Webster Scholar, an award granted to students who graduate with high academic achievement in the honors program.
Education around the world
Sithole knew graduating from St. Scholastica wouldn't be the end of her educational journey. She spent some time working as a consultant for an advisory firm in Johannesburg, South Africa, before earning a master's degree from the Kennedy School of Government at Harvard University.
But Sithole still wasn't ready to close the door on her education. She interned at the National Investment Commission in Liberia, then interned with a private equity firm in Dubai, and pursued a Master's of Business Administration (MBA) at world-renowned business school INSEAD in France. She is currently using these experiences in her current role in the Strategy Department of Nigeria's largest conglomerate.
Her ultimate goal is to someday return to Zimbabwe and use everything she's learned to help in building up their economy.
Sithole has seen the world and racked up a wealth of life-changing experiences, but she still regards St. Scholastica as a vital stepping stone in her journey. Looking back, she knows she made the right decision back in 2004. "A lot of the opportunities I've had are a result of St. Scholastica," she says.
---
When Rumbidzai Sithole was choosing a college, she was looking for a place that would teach her how to make a difference in the world. She chose St. Scholastica after careful consideration. Maybe you can follow in her footsteps! Visit the information page and fill out the form to request more information on the program of your choice.