October 8, 2014
Covering All the Bases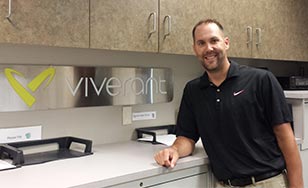 CSS gives Jeff Lahti everything he needs to succeed in physical therapy and life
In high school, Jeff Lahti's social studies teacher made him and all of his classmates write down a list of their goals for the next five years.
Five years later, Lahti got this list back.
"I nailed everything on it," Jeff said. "I had played college baseball and basketball, was on my way to getting my master's in physical therapy, and I had just got engaged to the girl of my dreams — Rita."
And it all happened at The College of St. Scholastica.
A helpful injury
Few high school students have this concrete of a plan for their futures. But it wasn't always this way for Lahti. In fact, it all started with something very much unplanned.
"My older brother (Steve) had pretty extensive ankle injury in high school that he went to physical therapy for," he said. "I watched him go through it and I was hooked. The idea of getting someone like him back to playing at a high level really stuck with me."
So did playing at a high level himself. Lahti had the rare goal of playing both baseball and basketball in college, which, combined with his interest in physical therapy, drew him to St. Scholastica.
Learning by playing
When he got here, he hit the ground running.
From his first game freshman year, Lahti was the starting second baseman for the Saints baseball team and a contributor on the basketball team. By the time his college career ended, Lahti was a captain on both teams and had earned a place in the Saints Baseball Hall of Fame.
The team even created the "Lahti Award" in honor of Jeff and his brothers, Steve '96 and DJ '05, which is given annually to the Saint who best displays leadership and excellence in both the classroom and on the field.
But he got much more out of this experience than his name on an award.
"Besides my dad, Coach Baggs (former head baseball coach at CSS), was probably the most inspirational male figure in my life," Lahti said. "When things get tough, I really lean back on the guidance he gave me — shake it off, learn from what didn't work and make sure you don't make that same mistake twice."
Relationships that last
"One thing that's unique about CSS is the one-on-one relationships you can have with your professors," Lahti said. "I knew many of them on a first-name basis and could stop in anytime and have a conversation about anything."
And these relationships are still affecting him today.
After graduating in 1999 with degrees in biology and health science and finishing his Master's of Physical Therapy in 2001 from CSS, Lahti spent the next decade working as a physical therapist, starting his own PT consulting business in 2009.
Then he got an email from Maurie Steinley, a former physical therapy instructor from CSS, who recruited Lahti to join him as an employee at Viverant, then a start-up physical therapy company.
"Here he was my instructor in college, taught me everything I knew, and actively recruited me to work with him," Lahti said. "You don't hear those kind of stories too often."
Now Lahti is the director of physical therapy and a business partner at Viverant.
"CSS was the perfect environment for me to get the most out of where I was at in life," he said. "To this day, my experience there has really helped me mature to where I'm at as a professional, a father and a husband, and I'm very thankful for that."