August 12, 2013
Completely Possible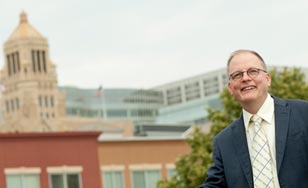 Kelly Boles might not seem like your average college student. He's 55, married, a father of seven (his & hers), homeowner, and, most importantly, deep into a good, professional career. But, through a relatively new degree path at the College of St. Scholastica, you're going to see more and more students like this Rochester man.
It's called CSS Complete and it's aimed at people who have some college experience, but for one reason or another, never achieved the Bachelor's degree.
"In my case, my work – and life – experience just got way ahead of my credentials,"
Kelly says. "And, whether it was real or imagined, I felt a glass ceiling."
Creditable
CSS Complete makes it easier to go back to college in that it gives you credit for not just classes taken, but in some cases, even work and military experiences. To start off, you're assigned a Completion Coach who looks over your records, your resume, and even an autobiography to evaluate and validate previous learning.
Federal rules say that 25 percent of your credits must come from your degree-issuing college, but, still, that leaves a lot of room for your college, work and life experiences to add up.
In Kelly's case, his work at two different schools, including a two-year degree at a community college, plus his work experience, started him off with 64 credits.
Normally, that would've put him almost halfway home to a four-year degree, but Kelly, always the one to take the road less traveled, aimed higher.
He's going for a degree in Computer and Information Science (CIS), which he says is more accepted in his chosen field – he works for the Mayo Clinic in the division of Media Support Services, where, as a Lead Analyst Programmer, he manages more than 10 people engaged in eHealth initiatives and NextGen patient facing interactive services. Both are technological media delivery platforms being leveraged as the Affordable Care Act is phased in.
"So when I'm all done," Kelly says, "I'll have 162 credits, which is 30 more than you would normally need to graduate."
Accommodating
Kelly's been working on his degree for about four years and, here again, is where the program accommodates people like him. Because of his busy work – and family – schedule, he and his advisor work together to find a variety of ways for him to get to class.
There is, of course, a CSS branch campus in Rochester and Kelly's taken classes in that traditional setting. But he's also taken some online courses and even independent study.
Complete
Kelly expects to graduate in 2014 and plans to make it every bit as big a day as any other "normal" undergraduate would.
His kids, especially, will be there, "so that it maybe inspires them not to take as long as their dad did," he jokes.
He adds: "I've always felt that I have been working with one hand tied behind my back. I mean, one hand is your experience. The other is your credentials..I haven't had the sheepskin."
"I don't know where my career is going from here. But I'm definitely going to have a lot more options, and that glass ceiling – gone!
"I have attended other colleges where the objective is simply to jump through hoops as you collect credits along the way. The College of Saint Scholastica turns the hoops on their side in order to envelop you with the Benedictine, value based support. You feel the sincerity…are inspired by, and cherish it!"