July 11, 2017
Changing the conversation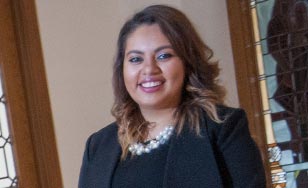 Ixayana Gonzales is working to raise awareness about mental health issues
St. Scholastica's current Phillips Scholar is leading an effort from within the Latino community to change the conversation about mental health.
"I wanted to find something that I could do to help my community," said Ixayana Gonzales '18, who traveled to Mexico during her sophomore year with St. Scholastica's Cuernavaca Quest service learning trip. During the trip, Gonzales was trying to brainstorm a community service project idea for her Phillips Scholar application. The stories she heard about people dealing with depression hit home.
"The Mexico trip was the epiphany," said Gonzales, who grew up in St. Cloud, though her family is originally from Nicaragua. "It finally clicked. I saw the needs in my community."
Gonzales explained that in her culture, mental health and depression is a topic that's often not discussed. She experienced this firsthand during her freshman year at St. Scholastica. The end of a long-term relationship, coupled with a close friend's cancer diagnosis, triggered a bout of depression that she realized could not be explained away, as is typical in her community.
"It's a real condition; it really affects me chemically in my brain," she said. The experience solidified her Phillips Scholar project idea. "That was another push for me to want to do this. I can't be the only one who's going through this."
Gonzales is grateful for the support she found at St. Scholastica during that difficult time. From Dean of Students Megan Perry-Spears to her resident advisors and other residential life staff members, many members of the campus community reached out to her to ensure that she had the resources she needed.
"That's how I was able to learn that it's not just me."
Reaching out
Gonzales set out to help others in the Latino community to make the same realization: they are not alone. Through a series of outreach projects she will conduct this summer for her Phillips Scholar project, she will try to raise awareness about mental health issues within the Latino community in Stearns County, Minnesota.
She developed a workshop program that will build awareness about mental health issues and educate people about the importance of self-esteem and the basics of positive family dynamics.
She'll also work with churches to identify families in need of a social worker intervention.
"We want to help them feel more welcome in their community and know that they're not alone in their journey," she explained. She plans to create a group to model positive behaviors for high school-age males, and start a college fair targeted to Latino families.
"I'd like to see the communities that I've grown up with — I'd like to see them engaged and know that they're supported. Three months isn't going to be life-changing, but it will be a start."
"I love helping people"
Gonzales decided to study social work because she wants to make a difference.
"I love helping people and giving back to my community. I thought that the best way to do that is through social work."
She is double-majoring in organizational behavior because she has a solid entrepreneurial streak, which she discovered during a childhood trip to Guatemala. She was fascinated by how people set up little shops right inside their homes, and as soon as she got home, she started selling milkshakes in the trailer park where she lived.
"I did make really good money," she said with a laugh. The perfect career, she said, would be to start her own nonprofit agency where she can continue to serve her community.