January 10, 2014
Catch Me if you Can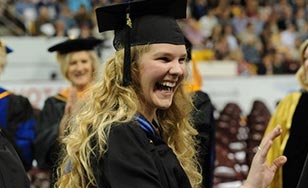 Emily Sue Mertes hopes to speed her way to superintendent
Emily Sue Mertes may not be a racecar driver, an Olympic sprinter or have any relation to Road Runner of Looney Tunes fame, but with the way she's progressing through her career, it's an easy mistake to make.
That's because the 2009 graduate is zooming up the educational ladder – already racking two master's degrees from St. Scholastica in 2011 (at record speed), a principal's license in 2012 and doctorate in education from Bethel University in 2013 (in less than half the time it takes most people), four years of math teaching at Hermantown Middle School, and some assistant principal experience. All at the ripe old age of 27.
And launching this rocket-like ascent was The College of St. Scholastica.
"During my time at CSS, I learned a lot about who I am and where my strengths and weaknesses lie," Mertes said. "I grew individually, spiritually, professionally and found my seven years there to be a great foundation for my future."
Personal principal preparation
The majority of this time was spent as an undergraduate math and secondary education major, where she benefited from the school's small class sizes and personal touch.
"I think the personal attention I received here is unique," Mertes said. "I am sure there are other schools that have support systems, but I found CSS's to be very personal. They really accommodated my needs, offered ideas to meet my goals, and worked alongside me to help me reach them."
This support manifested itself in John Bauman. As one of her education professors, John was instrumental in shaping Mertes' future. He recommended that she add a computer information science minor to accompany her music minor, helped her strategically think about her goals and how to achieve them, and encouraged her to pursue dual Master of Business Administration (MBA)/Master of Arts in Management (MAM) degrees to better prepare her to become a principal someday.
"Some said not to go for my master's directly after undergrad – to wait three years to get some groundwork in teaching or else I would be harder to hire. But John encouraged me to just keep going, which I did and I am so very thankful," Mertes said. "The dual master's helped me seamlessly advance into the doctorate program and prepare me for the next step."
Now she's using these degrees as a Data and Instructional Coach at Laura MacArthur Elementary School in Duluth while also seeking her superintendent's license…which, judging from her history, she'll probably get any minute now.