April 23, 2014
Building the Ultimate Resume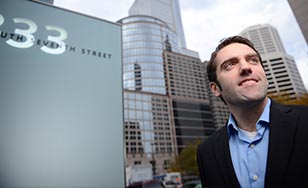 Vinnie Surges packs heaps of experience into a few years
College students everywhere know the importance of the resume. A good one can be a foot in the door and a bad one could shut it. But Vinnie Surges' resume is another case entirely – it kicks the door wide open.
That's because in the short time since he graduated, Surges has compiled a list of experiences that could be the envy of any scholar and the fascination of any employer.
Undergraduate research at Harvard. A software engineering internship at NASA. Graduate school at MIT. But perhaps the most valuable of these was his time as an undergraduate student at St. Scholastica.
"The education I received at St. Scholastica, both in the mathematics department as well as other general courses, was outstanding," Surges said. "The small class sizes and low student/faculty ratio allowed for more classroom questions, more material to be covered and a more thorough education in general."
Reaching higher
This personal touch made all the difference for Surges. Whether it was joining the mathematics club, or connecting with professors like Luther Qson, chair of the mathematics department, outside of class, the tight relationships Surges formed here encouraged him to set his sights a little higher.
"Professors from CSS continually encouraged me take the next step in my education, to raise the bar, to set higher goals," Surges said. "It was at CSS where I realized that it was indeed possible to accomplish these goals with the right mindset."
It was also at CSS where Surges became a McNair Scholar. This federally funded program prepares racially underrepresented, first-generation and low-income college students for graduate school and assists with internship and research placements.
Through a series of workshops, Surges learned how to achieve his educational goals and pursue research and grad school opportunities in the field of engineering – a rare thing for a "pure" mathematics major.
"Where I am today is a direct result of being a McNair Scholar," Surges said. "Everything started with the McNair program. Involvement in it led to internships, which led to an excellent opportunity at MIT, which ultimately led to my current position."
That position is a business analyst at Accenture in Minneapolis – allowing Surges to add a Fortune Global 500 company to that evermore-impressive resume.