September 25, 2020
Building Connections, Online and Offline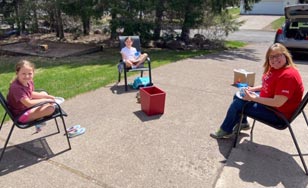 One Duluth elementary school educator knows that the secret to successful online learning might just be to step away from your computer now and then.
As the Duluth Public School District and other school systems around the state welcome students back to an uncertain fall semester, online learning will once again be an important factor.
But Cindy Miller '92 (M.Ed. '98), who teaches third and fourth grade at Congdon Park Elementary, recognizes that no matter how good the online content is, students need an in-person connection. That's why she made a special effort to visit each one of her students multiple times this past spring after her school shifted to an online learning environment in mid-March.
"I had already developed a good relationship with my students, as had all of our teachers," Miller said. "It was important to continue that for the mental health of our children."
A curbside greeting
The physically distanced visits started out simply, as Miller would just "stand on their curb to say hello." But at the end of April, when it was announced that Minnesota K-12 schools would not reconvene in person, she decided to take it up a notch.
"That's when I decided that lunch dates were important."
She visited each of her students for a physically distanced lunch date, even attracting the attention of the local news media for her efforts.
It was interesting, she said, to observe how their conversations changed. In school, her students usually would talk about trips they'd taken, family members they'd visited, or how it was going on the soccer team. But with the pandemic lockdown shrinking everyone's world, the students would instead tell her about their families and activities they'd found to keep busy at home. While their experiences narrowed in some ways, they actually broadened unexpectedly in others.
"I liked to see that students got to know the people in their neighborhood more," Miller said.
She's also written letters to her students, which is a bonus because it coincides with a grade-level educational unit about the U.S. Postal Service.
"I've gotten 41 letters back," she said.
Teaching and learning at St. Scholastica
Miller graduated from St. Scholastica's elementary education program, and went on to complete her master of education degree. She feels she got excellent preparation.
"I had a great education. I learned so much about myself and the influence that teachers have."
Her involvement with her alma mater continues, as she is teaching three classes in the Graduate Teaching Licensure (GTL) program.
"What I love about the GTL is that the students have a degree in something else and they want to become teachers," she said. "It's such a diverse group because they all have a degree in something that's unrelated to education. We come from all kinds of different places and apply what we know to teaching."
Serving Duluth students
Miller has worked in the Duluth Public Schools system since 1995, spending 16 years as a media specialist and nine years in an elementary classroom. She's now playing a key role in helping her fellow teachers succeed in the new school year. The Duluth Public Schools system is taking a hybrid learning approach for elementary schools, mixing in-person classes with online learning. It will primarily use Seesaw, an online learning system with various multimedia tools.
Miller is training all of the elementary school teachers in the district to use Seesaw, which she feels is best viewed as a communications tool rather than a teaching tool.
"I think that it's important for the students to get away from the computer," Miller said. "Lessons will be delivered, they practice away, and then come back to show what they know.
"The whole thing is communication."
Her advice to parents navigating the realities of a challenging semester?
"Teachers are not expecting parents to do the teaching. Be supportive of your child and the teacher, and that will lead to educational success."