January 16, 2014
Bouncing Back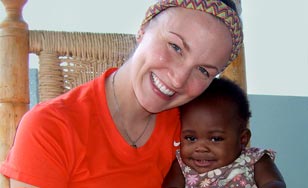 Rebecca Udermann overcomes injuries and helps others do the same
When Rebecca Udermann went up for a spike in a volleyball game against Bethany Lutheran as a freshman 2006, she came down with a crack. The diagnosis – a compound tibia-fibula fracture, a serious injury where the broken shinbone actually penetrates the skin. The prognosis – she might never play volleyball again.
Yeah, right.
"After I broke my leg, I laid my pair of new volleyball shoes in my room next to my desk and made a sign that read 'my goal shoes,'" Udermann said.
By the next Friday, after enduring surgery and complications with her medication, she was standing in the CSS gym, cheering on her teammates. And only a few months later, in the spring of 2007, she was wearing those shoes for real – participating in spring volleyball.
Then in the fall, injury struck again – sidelining her with a stress fracture in that same leg. So exactly one year after her previous surgery, she underwent surgery yet again and endured the same complications with the medication.
It takes a village
Fortunately, she also had the same overwhelming support of the CSS community. Family, teammates, volleyball coaches, coaches from other sports, athletic trainers encouraged her every day. Even people she didn't know were in on it.
"Two upperclassmen would always hold the doors open for me when I was on crutches. Since I didn't know their names and they didn't know me, we always just said hello," Udermann said. "After many months of this, I later learned that they had came up with a special name for me, 'CFG,' which means compound fracture girl, before they knew what my real name was. To this day, we are still friends."
But her struggles weren't solely physical. She also had to keep up with school amidst her surgeries, complications, rehab and her eventual return to volleyball in spring of 2008.
"I truly felt like my professors cared about me as more than just a student, but as a person too," she said. "They were more than willing to help me in any way both pre- and post-injury. They knew that nursing and volleyball were both huge parts of my life, so they helped accommodate that to make both possible."
Paying it forward
With this support, she graduated in 2010 with a degree in nursing and a conference volleyball title under her belt. She then went to work at Cook Children's Medical Center in Fort Worth, Texas – a nationally ranked pediatric institution – before spending a year doing medical mission work in Haiti – putting her skill in dealing with adversity to good use.
Now she's back as a registered nurse in the Pediatric Intensive Care Unit at Cook Children's Medical Center. But she won't forget St. Scholastica.
"I love how CSS is small and has a homelike feeling. I loved walking into each class, being known as a person with a personality instead of just a number. I learned life lessons there that shaped me into the person and professional I am today." she said. "Things like this don't happen at just every college."
Neither does a recovery like this.