October 30, 2019
Blazing a trail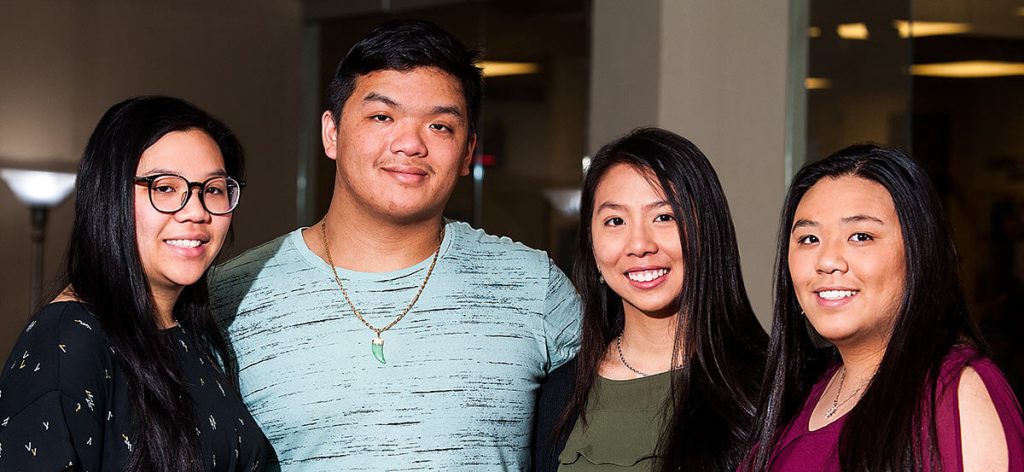 Strong family ties and a campus culture of inclusivity guided four first-generation students to St. Scholastica
When first-generation students begin their college journey, there is so much that's new, from financial aid and campus visits to class registration and beyond. And in the case of Mary Tran '19, she had four other sets of eyes watching her live out a dream — two sisters and two cousins.
"My siblings, cousins and I are all a year apart age-wise and we all grew up together near Duluth. It's always been the five of us together," Mary said.
"When I was accepted to St. Scholastica and received a great scholarship, I wasn't sure if my siblings and cousins would follow suit," Mary said. "But I really enjoyed my first year there and I talked about my classes, friends I made, club involvement, and overall experience when I came home from school."
St. Scholastica Office of Equity, Diversity and Inclusion Director Chris Davila said that Mary was vital in showing her family the depth of what a college experience could look like.
"Whether she knew it or not, she was influencing her parents, her siblings and extended family," Davila said. "As Mary navigated the ups and downs of college, she was role modeling to her siblings and cousins the necessary skills and awareness that are critical for first-generation college student success."
Sisters Elizabeth '20 and Julie '22, along with cousin Michael '22, did follow Mary to St. Scholastica. The youngest, Angelina, isn't college-age just yet.
Davila has been impressed with the entire family, including their heavy involvement in social justice clubs on campus, like Multicultural Leadership Orientation (MLO) and Asian Student Union (ASU).
"They are quietly establishing a legacy of success for other students of color, local students from Hermantown, first-generation students and students who are deeply committed to their family and cultural heritage," Davila said.
Mary Tran — Social Work
For Mary, choosing St. Scholastica meant she could stay close to family, but also pursue her passion. She had some initial concerns about how she would fit in as a commuter — a student who lives at home but attends college full time.
But that didn't last long.
"I ended up finding my place on campus through MLO," Mary said. "I began to dive into social justice, I found friends that I've kept through my entire time at St. Scholastica, and I made connections that led to leadership positions.
"It was a really good way to start my experience."
Leadership positions included becoming the ASU president, where she helped to raise awareness about people of her ethnicity and create safe places to discuss issues on campus.
"We're a social justice club on campus — one event we hosted was an Asian heritage night where we were able to share parts of our culture like traditional dance and food," Mary said. "We're from a predominantly white community, so it was important for us to create and nurture a space where we could form friendships and talk about social justice issues facing the Asian community."
Mary parlayed this passion for social justice into a BA in Social Work. She also cites her grandmother's care as a source of inspiration — she sponsored a number of family members as they emigrated to the United States.
"My mom has told me many times that my grandma was such a positive role model in her life," Mary said. "She also had a career in social work, which was inspiring for me."
This fall, Mary is attending the University of North Dakota, pursuing her law degree. She said the social work program at St. Scholastica empowered her with the right opportunities to develop wide-ranging skill.
"I was an intern at Community Action Duluth for their free tax preparation site my junior year, and my senior year I was an intern at the Sixth Judicial Public Defender's Office in Duluth," Mary said. "I'm really interested in the legal side of social work; I want to help immigrants and refugees."
Elizabeth Tran, '20 — Biochemistry
While Mary was spending her first year on campus in Duluth, she was having ongoing conversations with her sister, Elizabeth. Sharing stories and experiences was pivotal in helping Elizabeth shape her vision of St. Scholastica, and it sounded like the kind of place she could thrive.
Primarily, Elizabeth craved close community.
"When I was a senior in high school, I took PSEO classes at another university where the classes were much larger," Elizabeth said. "I knew I'd want the class size to be smaller, and I was hoping to stay close to home."
When she arrived at St. Scholastica, Elizabeth began to write her own leadership story, stepping into dual roles with ASU: club secretary and public relations.
"My job was to connect with the school community and club members, helping raise awareness about what we're doing and keeping our team informed," she said.
Over the years, Elizabeth has been able to foster strong ties to her family roots through periodic overseas travel. These experiences left an indelible mark that broadened her worldview while sharpening her career goals.
"My parents emigrated here from Vietnam, and I've had the opportunity to travel there. I was able to observe the poverty and lack of healthcare access," Elizabeth said. "It inspired me to want to help in places around the world where people simply do not have what they need to be healthy."
From here, Elizabeth plans to continue her education with a pharmacy degree.
"In the future, my goal is to open my own pharmacy in an area that is underserved," Elizabeth said.
Michael Nguyen '22 — Organizational Leadership
Initially, Michael wasn't sure where or even whether he'd attend college. But because of his cousin Mary's experience, St. Scholastica piqued his interest.
"Growing up, Mary and I were really close, so I really did follow in her footsteps in some ways," Michael said. "I ended up attending MLO, and enjoyed Welcome Weekend, and the people there were able to bring me into the community and help me feel comfortable right away."
"As a commuter, I was concerned I wasn't going to be able to make connections as quickly as on-campus students, so my MLO leader was really important in terms of getting established."
And now that he's gotten a taste of what healthy leadership looks like, he wants to emulate what he's seen. In fact, Michael wants to pursue business leadership.
"I realized that I wanted to be in a leadership position later in life, so it made sense for me to go in this direction," Michael said. "Eventually, I'd like to link my organizational leadership degree with a business management degree – in the future I have an interest in working in a business consulting firm, human resources or potentially sales."
For Michael, successful leadership starts with living a life of inclusivity and diversity. He said that he's found St. Scholastica to be a place that values these principles.
"The community at St. Scholastica is very welcoming no matter what the color of your skin, your race or what your religion is. Everyone on campus will welcome you with open arms," Michael said.
Julie Tran '22 — Psychology and Social Work
In the years before she ever attended St. Scholastica, Julie was watching her older sisters' interactions — planning trips and meetings for ASU, and attending Asian heritage night — and she knew it was something she wanted as part of her college experience.
"It was a big transition from high school to college, but these early connections really helped me on the way in," said Julie, who — along with Michael — served as an ASU board member in 2018-2019. "What makes St. Scholastica so special for our family bond is that we all get to be together as a family at the same school despite our differences in career goals."
When she arrived at St. Scholastica, Julie was interested in psychology, but it wasn't until she did some exploration that she discovered a passion for fighting the stigma that society has placed on mental health issues.
"It's important to understand and realize how mental health may affect an individual who may be battling it, and knowing what we as individuals can do to help," Julie said. "I see myself working with various individuals, either helping them deal and cope with mental health or advocating for those who may need assistance."
Her thoughts after one year? St. Scholastica is a place where you can find, or refine, your path.
"One of the biggest things that I learned during my first year is that you're not only here to get an education, but to build relationships, find who you want to be, do what you want to do, be yourself, and continue to learn," Julie said.