January 27, 2016
Becoming a Saint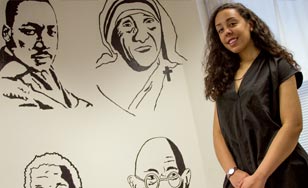 Emma Myles shares her CSS story
In her own words, management and marketing double major Emma Myles, a junior at St. Scholastica, shares the story of why she decided to become a Saint and describes the unique opportunities she's found here.
Family connections
I am from a small city in Wisconsin called Wausau, and I first heard about The College of St. Scholastica from my great uncle the summer before my senior year. He asked me about my college plans and suggested I check out St. Scholastica in Duluth, Minn. I agreed politely, but doubted I would go to a school that I had never heard of.
I became more interested in the College as I learned about several family connections to Duluth and St. Scholastica — my grandpa had attended Denfeld High in Duluth, and my great aunt got a nursing degree from St. Scholastica. That's how she met my great uncle, who attended UMD. Because of their encouragement, I applied to St. Scholastica and was accepted. I was still unsure whether St. Scholastica was the right school for me, though.
The Scholastica difference
I run cross country and hoped to continue that in college. After I was accepted, I was surprised to receive a call from Coach Steve Pfingsten. I thought it was weird that he was spending so much time talking to me because I thought I was a pretty average college prospect.
When crunch time came and I had to decide on a school, I picked Hamline. The night that I made that decision, I got a call from Coach Pfingsten. Somehow he convinced me to do an overnight stay at St. Scholastica with some of the team members. After that overnight stay, I knew St. Scholastica would be the school I would attend that next year. Now that I reflect on that experience, my number one reason for choosing Scholastica is that phone call. It showed me that someone at Scholastica cares to have me attend the school and sees the potential in me when I didn't necessarily see it in myself.
Great opportunities
That story took place more than three years ago. I am happy to say that I made that choice to come here because of all the opportunities Scholastica has given to me. I have often wondered what it would be like to go to a bigger school in a bigger city. However, there are many things that I would not have been able to accomplish because at those places you are less of an individual and more of a number.
I found my passion in business, so I became a double major in marketing and management and created an internship within the marketing department. I was able to carry on my father's legacy of serving as president of the Black Student Union. Because of a Scholastica alum, I am creating a mentorship group with Denfeld High School. All my friends in the international community at Scholastica inspired me to study abroad in Paris this past summer and go to Morocco with the School of Business & Technology next year.
Even though Scholastica is not without its challenges, like any other institution, it has inspired me to push harder for what I want, to think more critically, and ultimately develop into the person I am today.
Solid future plans
My goals for the future include going to business and law school to get a dual degree and eventually practice international corporate law. Ultimately, St. Scholastica is doing more for me than just making sure I graduate. By attending Scholastica, I have found lifelong friends, I have discovered my dream career and I have become the best version of myself.