December 27, 2013
An Education that Adapts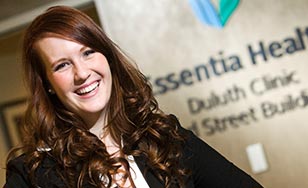 Kayla Zirbes turns internship at Essentia Health into a job.
It's no secret that the healthcare landscape of today is one of near-constant change. To succeed, professionals can't just focus on one area. They need to have a wide spectrum of knowledge and be able to apply it in a number of different ways.
But when Kayla Zirbes entered the workforce a week after graduating, that wasn't a problem. As a Health Information Management (HIM) major here at St. Scholastica, she was adaptable.
"My education was top-notch," Zirbes said. "All of the HIM faculty and staff were amazing from day one. Each of them helped me grow in a different and unique way. Not only was I exposed to current trends and information, but also proactively prepared for the future state of the profession."
This future state involves implementing new and emerging technologies to better manage, secure and analyze data and exploring the evolving roles that HIM professionals can play in organizations – knowledge that students gain firsthand by actually going into the workforce as interns.
"The internship program that the HIM program utilizes is incredible," Zirbes said. "Professionals really open their doors to us and share their wisdom, processes, and experiences. It truly transforms us from students to professionals."
A foot in the door
Zirbes' internships through the program came at Douglas County Hospital in Alexandria, Minn, Health Level Seven in Ann Arbor, Mich, and St. Mary's Hospital in Grand Rapids, Mich. She also was able to secure an internship of her own at Essentia Health in Duluth.
For 18 months she honed her skills there, until she graduated in the spring of 2013 and was promptly hired on full-time as an Electronic Health Records (EHR) Applications Analyst – a position she was fully qualified and prepared for even though it's not even in the HIM department.
"I apply concepts and skills I learned at CSS every day," she said. "And I'm not just able to do my job, but be a professional that upholds the Benedictine values throughout my entire life."
And that's not all she received here.
"Being a CSS student is a once in a lifetime opportunity," she said. "You become like a family – working together, supporting each other through academic and non-academic struggles, and celebrating each other's achievements. The bonds I built here with students and professors will last a lifetime."