September 16, 2015
An asset to the NY Mets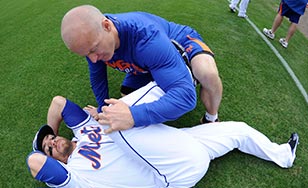 Team's physical therapist boosts qualifications through online tDPT
Long before the windup of the pitch and the crack of the bat at the New York Mets' Citi Field, players are working around the clock to stay in top physical condition. A team of experts helps to make that happen, including one St. Scholastica graduate.
John Zajac, who completed his Transitional Doctorate of Physical Therapy (tDPT) through St. Scholastica's online program in 2012, is a physical therapist/assistant strength coach with the New York Mets.
He earned a bachelor's degree in science and wasn't certain about his future goals until a fateful hand injury during an intramural football game introduced him to a whole new career.
"I had a tendon injury, so I had to go through rigorous physical therapy," he said. "I had an interest in personal training, human anatomy, health, and fitness, so physical therapy seemed like a good fit for me."
Zajac went on to earn a master's degree in physical therapy. After a few years in the field, he heard about a job opening with the Mets through a friend who worked for the team. He landed the job in 2007, and now splits his year between traveling with the team during baseball season and living in Port St. Lucie, Florida, home of the Mets' spring training complex.
"I like working with the team," Zajac said. "I like having some sort of positive influence by helping with their daily routine."
An average day includes meeting with coaches and trainers to figure out priorities and workout needs for the players, using physical therapy as a maintenance measure rather than a corrective one to help the athletes stay in shape.
"It's part of the job to be able to assess people's physical capabilities, and what we can do to prevent injuries," he said. "It's not just waiting for something to happen and fixing them once they're broken."
Zajac decided to pursue St. Scholastica's tDPT program because it fit so well with his busy travel schedule.
"You want to make sure you're still learning even though you're working a lot," he said.
Program director Jena Ogston recalled Zajac contacting her during his cross-country travels with questions about assignments that he'd work on during long flights.
"He was always eager to learn with continual investigations through phone calls from the airport," she said.
"What I found attractive about the St. Scholastica program was that the setup allowed me to do most of the work online, without the need to physically go to a school to attend classes," Zajac said.
He was able to use Mets players for case studies for class, applying real-world situations to his coursework.
"The program's great," he said. "It allows you to do things independently and on your own terms. It was a perfect fit."