September 26, 2013
Alum. Attorney. Achiever.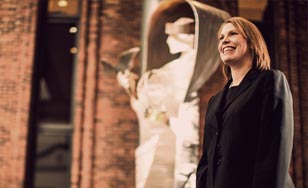 Jessica Durbin uses her talents to give back to CSS and the community
Jessica Durbin has achieved a lot for a woman not yet 40 years old.
After graduating with highest honors from St. Scholastica in 1998, she earned a law degree at the University of Minnesota Law School, where she was a Justice Harry A. Blackmun Scholar.
At the law firm Johnson, Killen & Seiler, P.A. in Duluth, she specializes in labor, employment, and business law, as well as civil litigation. She serves as Vice Chair of the Duluth Regional Care Center and as Chair of the Eleventh District Bar Association Ethics Committee.
She was the recipient of the College's Young Alumni Achievement Award in 2008 and served on the Alumni Board for six years before joining the College's Board of Trustees.
Perhaps her highest-visibility contribution at St. Scholastica was leading a group of her fellow Trustees in commissioning a new sculpture in honor of the College's Centennial,"Wisdom Heralding Peace." The artwork now graces Benedictine Commons.
She identifies her family – daughter Abigail, 5 years old, son Andrew, 2 years old, and husband Darren – as her "greatest accomplishment."
Her long relationship with the College has enriched her life, she says.
"The people I met as an undergraduate student, through the Alumni Board, and now through the Board of Trustees, have really had an impact on me. They are deeply committed to the mission of the College and the success – both personal and professional – of its students."